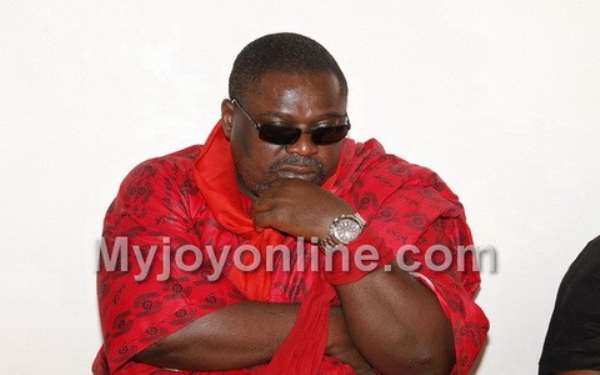 The once loquacious NDC Deputy General Secretary, a ferocious bulldog, Koku Anyidoho, who was ripping apart the NPP presidential-candidate Nana Akufo-Addo and the NPP leadership and whatever the NPP stands for, at any least opportunity he got, has now turned a new leaf. He had given those of us supportive of Nana Akufo-Addo a hard time while we were in a race defending what each one upholds most. This is verifiable from our Ghana internet news portal feature articles publications. He was constantly attacking Nana Akufo-Addo, rubbishing not only his ideas but personality. While he was doing that, I, Rockson Adofo, and others, who could see the worth in Nana Akufo-Addo, unrelentingly held onto our grounds in defence of Nana Akufo-Addo and his farsighted noble ideas.
To hide his identity to be able to spew his rubbish and lies, he wrote his articles under impersonation. He published them under the names of Margaret Jackson and Nana Akua Tweneboah Kodua. Whilst he was actively tirelessly indulged in his evil machinations, tasked by his party superiors to do whatever it takes to tarnish the personality Nana Akufo-Addo, God had His eyes on him. God needed him to do His work. God was preparing him for an assignment to tell the world a true story about how one can be coached to paint his rivals darker than they normally are.
Koku Anyidoho's conversion from an evil man with intent to destroy others for the love of it, to a good God-fearing preacher, came about in a like manner as that of the biblical Saul who later became Paul. Was Saul not on his way to Damascus to arrest and kill the saints of God, when he encountered Jesus and was struck blind?
A quote from Acts 9:1-5 tells Saul's story. "Then Saul, still breathing threats and murder against the disciples of the Lord, went to the high priest 2 and asked letters from him to the synagogues of Damascus, so that if he found any who were of the Way, whether men or women, he might bring them bound to Jerusalem.
3 As he journeyed he came near Damascus, and suddenly a light shone around him from heaven. 4 Then he fell to the ground, and heard a voice saying to him, "Saul, Saul, why are you persecuting Me?"
5 And he said, "Who are You, Lord?"
Then the Lord said, "I am Jesus, whom you are persecuting. [a]It is hard for you to kick against the goads."
Similarly, Koku Anyidoho had threateningly warned President Akufo-Addo with a coup d'état by saying, "History has an interesting way of repeating itself", thus, he will be removed from power as did happen to his father when Col. I. K. Acheampong's Supreme Military Council junta kicked out Prime Minister Kofi Abrefa Busia's Progress Party government of which Nana Akufo-Addo's father, His Excellency Edward Akufo-Addo, was the President from 31 August 1970 – 13 January 1972.
Koku Anyidoho was arrested by the Bureau of National Investigation (BNI) operatives. He was held by them for about three days or so. The timely intervention by His Excellency the President, Nana Addo Dankwa Akufo-Addo, pardoning him and ordering for his release, saved him from further interrogations and possible prosecution.
When he came out of his short incarceration, he praised the President for his intervention and the BNI operatives for being so lenient with him, treating him very well without any molestations. However, the NDC people had expected him to be rather vituperative about the President and the BNI.
For him being truthful, the NDC fell out with him, treating him as an outcast since then. Why would he tell lies, he asks himself?
His reformation came about as a result of his arrest. Had he not been arrested for saying what he said, he would still be the NDC liar and loudmouth going about telling lies, tarnishing the reputation of his political rivals. But, today, he is telling the truth about how in NDC the big bosses task the youngsters to tell lies about others, insult them and to try to get the public to hate their targeted persons.
Koku Anyidoho, now a prodigal son, a seeming evangelist, has seen the good in Nana Akufo-Addo, once his hate target. Again, nobody would have known how knowledgeable in the gospel is Koku Anyidoho, if he had not been arrested. Now, he is preaching salvation to Ghanaians, exposing the lies of the NDC. He has now come to the camp of Rockson Adofo and those who had long ago seen the light in Nana Akufo-Addo and have been championing the cause of collective prosperity for all Ghanaians but not for a selected greedy and corrupt few. Hallelujah!
In his misfortune, he has seen a blessing. He is no longer doing the work of the devil that would have condemned him to hell but the work of God that is opening the gates of heaven to him. He is on his way to becoming friends with Nana Akufo-Addo. I love that.
Those of us encountering misfortunes, please let us see blessings in them. Let us count our misfortunes as blessings. Let us see light in misfortunes to turn them to our benefit as Koku Anyidoho has done.
May God continue to shower His blessings upon him. May he continue to be led by the light that he has seen without ever returning to the cloud of darkness in which he was enveloped when he was under the NDC spell where he was falsely defaming and insulting their political opponents.
Rockson Adofo
Sunday, 13 September 2020