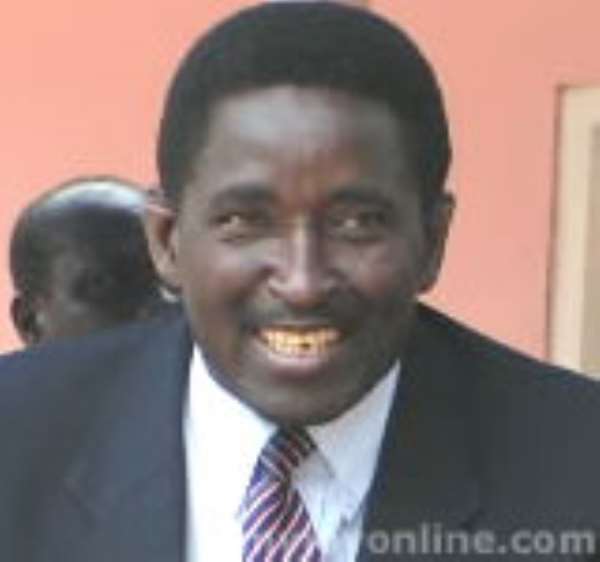 The New Patriotic Party (NPP) Member of Parliament (MP) for Berekum, Captain Nkrabea Effah-Dartey (retd), who is vying for the flagbearership of the NPP has vowed that even if the National Executive Council (NEC) of the NPP pegged the contesting fee at ¢2 billion, he will pay.
He, however, expressed his dismay at the ¢500 million a leading member of the NPP, Mr Appiah Menka, suggested as the registration fee to be paid by those aspiring to be presidential candidates, and described the suggestion as "unrealistic and outrageous, to say the least".
"I have the belief that all monies belong to God and even if they fix it at ¢2 billion, I will pay. I am a practising lawyer and one client can pay for me, so I am not scared by the ¢500 million, but it is only that it is sending wrong signals for our party," the NPP presidential noted.
Speaking to this reporter in Berekum in an interview, Capt Effah-Dartey, 53, said the ¢500 million quoted by Mr Appiah Menka as the filing fee created the impression that the flagbearership was for sale or it was a money-making enterprise, and that only the rich belonged to the NPP, which, in fact, was not the case.
He further noted that the suggestion sought to create the impression that "our party is elitist. In fact, it is a dangerous suggestion which will send wrong signals to the populace because our party belongs to everybody who accepts our manifesto and is interested to work for it".
"If we force aspirants to pay that amount they will turn their backs to the foot soldiers of the party.
Currently, our foot soldiers are grumbling because our leaders have turned their backs on them and we need a leader who will concentrate on the development of the nation and move our motherland forward, but not the one who will come and be thinking about how to pay his debts or to reward those who helped him to raise ¢500 million," the aspirant observed.
The suggestion, Capt Effah-Dartey said, was from one man which might not be carried by the NEC which was yet to meet to decide on how much the aspirants were to pay as a filing fee.
"His main argument is that the flagbearer should be a resourceful person and that the party needed money for its smooth running.
"I believe he has overstretched his limit of reasons, because I will cite the same reasons and peg it at ¢100 million because if you want such a position and you cannot raise ¢100 million, then you are not worth the sort," Capt Effah-Dartey countered.
Asked whether he was still in serious contention, the MP was quick to remark that, "very seriously and my dream is very much alive but the emphasis is on the Electoral College.
It is not mass appeal but vote specific and one-on-one contact, which is more effective. "For now, it is quiet, underground and submarine tactics that is more effective than loud mouth mass of propaganda so I am on the road and after the congress, by God's grace I will get the nod," the Berekum MP said.
Capt Effah-Dartey who said his hobby was long distance running, argued that Berekum, his constituency, and indeed the whole of the Brong Ahafo Region, were "no go areas" and that any contestant who was venturing there was wasting his time.
"B/A is my stronghold and my base. I know every district and constituency and I am a local boy and president of the B.A. Citizens Association in Accra and apart from the B. A, I am thinking of fighting in all the regions," he stressed.
According to Capt Effah-Dartey, his strongest advantage was that he had been a deputy minister of local government and rural development and that, there was no serious member of the NPP who had not seen his face before in his own backyard, pointing out that politics was about recognition and exposure, an advantage he had over the rest of the aspirants.
Capt Effah-Dartey, who is married with three children, reiterated that he would offer Ghanaians an honest, selfless and humanistic leadership when he finally became the President of the country and explained that "those who saw me as a deputy minister can confirm that I am accessible and will remain so to the end". The MP stressed that Ghanaians expected the NPP congress to give them a flagbearer, who would continue to give them the good works of President Kufuor's administration, and instil discipline in the economy, strengthen the local government system and improve upon the human resource base of the country, and "I am the symbol of all these".
In response to a suggestion that he was a controversial person, Capt Effah-Dartey explained that "it is not a crime to be controversial, because when they say you are controversial, they mean you have strong views".
"It takes a long time to make my mind and once I do so, it is irreversible and it is better to have an opinion than not to have one at all," the MP said. Asked about what he had done for his constituency as an MP, Capt Effah-Dartey remarked, "too many projects in Berekum, including school blocks, roads, clinics, water and sanitation, with every community enjoying power supply".