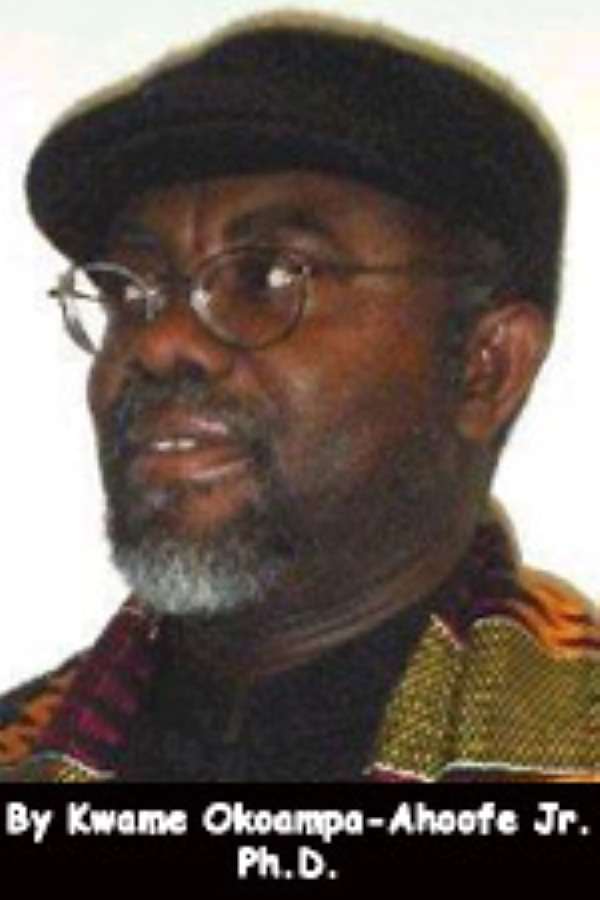 If he were a critical thinker and a progressive traditional ruler and a statesman, the Krontihene of the Akwamu Traditional Area, Nana Asare Akowuah, III, would be more humble and soberly measured in his criticism of the administrative executives whom Nana Akowuah is accusing of nepotistically packing up the employment payroll of the Volta River Authority (VRA), operatives of the Akosombo Dam and other ancillary publicly owned properties, with their children and relatives (See "Krontihene of Akwamu Traditional Area Accuses VRA of Nepotism" AngelOnline.com.gh / Ghanaweb.com 8/29/20). Ironically, the very institution from which the Akwamu Krontihene derives his monarchical legitimacy and reserves his credibility is one that is nepotistically constituted.
You see, Dear Reader, the institution of the monarchy, or chieftaincy, is essentially not one that is necessarily predicated on merit, at least not merit as broadly and competitively spelled out. Rather, it is based on kinship and familial nepotism. So, I fail to see why Nana Akowua would have the executive operatives of the VRA conduct themselves in ways that are not routinely demanded of our traditional rulers or chieftains. While, indeed, it cannot be gainsaid that the chieftaincy institution is not without its own positive aspects to it, especially in the area of cultural protocol, nevertheless, this hitherto venerable establishment has decidedly receded into a museum piece or relic in our increasingly globalized postcolonial and postindustrial and postmodern world. It is quite clear that the Krontihene of the Akwamu State would have the hiring protocol currently, and allegedly, employed by the VRA's executive operatives reconfigured in ways that are nonexistent within the chieftaincy establishment itself.
This morally and politically progressive realization may very well be the primary reason why the English/British decided to relegate The Crown, their institution of the Monarchy, to the level of a largely ceremonial status. And, so far, this arrangement seems to be working perfectly, although from time to time there erupts a public outcry over wasteful spending of the taxpayer's money for the preservation of an establishment that is widely deemed to have lost much of its practical relevance. I don't doubt for a split second that Ghanaians may be experiencing this same dilemma over precisely what to do with this otiose and hulking shell that is the anachronistically glorified institution of Chieftaincy. But I also sincerely suppose that for the Chieftaincy establishment to be effectively consigned to the proverbial dustbin of history, our modern colonially inherited administrative system and mechanism ought to be significantly strengthened and made more viable. Which means that extensive and exhaustive research ought to be conducted as a means of finding strategic more viable alternatives found in place of what presently prevails.
Now, of course, Nana Akowuah's plaint cannot be wished away or taken lightly. The level of nepotism and rank corruption in Ghana's public service leaves much to be desired. But it is also significant to note that this problem is absolutely nothing new or a recent phenomenon. It has been with us since March 8, 1957 and even well before, to be certain. It is part and parcel of the Chieftaincy establishment, which very likely was seismically complicated by the nearly 500 years of massive and wanton European enslavement of African humanity and the grotesque but significant distortions brought on by this apocalyptic and traumatic epoch of Africa's unprovoked encounter with the insatiable and wantonly predatory industrializing European nations, largely, the so-called Western-European nations.
At any rate, what I really wanted to underscore here is the fact that the problem of acute nepotism in civil service employment is one that has to do with an abysmally weak civil service institutional apparatus or structure. And, of course, the sort of pathological cronyism that comes with the way that political partisanship plays out in our country. The fact of the matter, though, is that the sort of socioeconomic rot that one witnesses in Ghana today may very well be more endemic to partisan political praxis than it has to do with the fact of anything being amiss about Ghanaian humanity. We witness an even worse level of corruption and nepotism in the so-called Command System of governance, otherwise known as the Communist and Socialist countries. The great news here is that however imperfect it may be aptly deemed, the indispensable fact still remains that in the Akufo-Addo-led government of the New Patriotic Party, Ghanaians have the best chance and shot at significantly reducing the sort of rank and pathological nepotism that Nana Asare Akowuah, of the Akwamu State, is talking about.
*Visit my blog at: KwameOkoampaAhoofeJr
By Kwame Okoampa-Ahoofe, Jr., PhD
English Department, SUNY-Nassau
Garden City, New York
August 29, 2020
E-mail: [email protected]