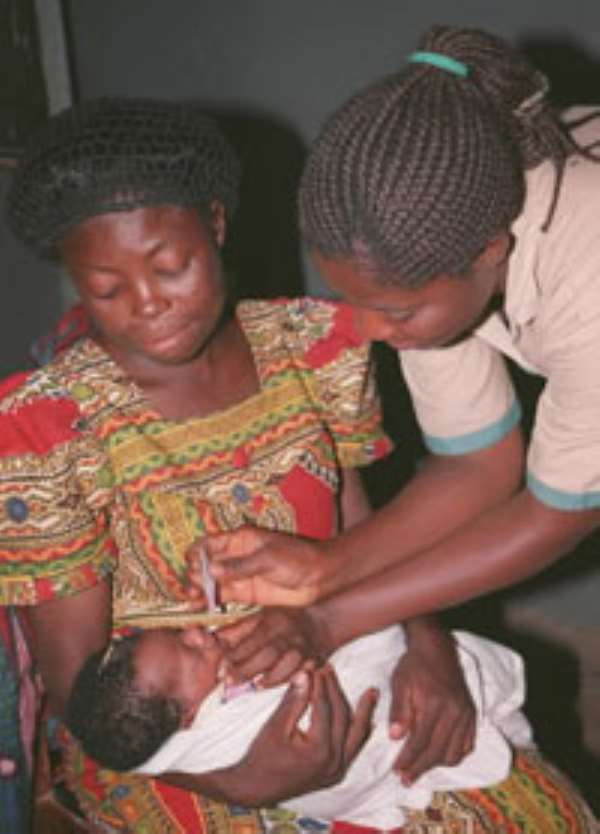 Ghana would be declared a polio-free country after the polio immunization exercise scheduled for November this year.
Mr. Ebow Acquah, Immediate past President of the Rotary Club of Accra Airport, disclosed this at the launching of the Malaria Walk Awareness exercise instituted by the Club at Awutu Akropong and Agona Kurnkrantumi, respectively.
Already, the walk had taken place at Twifo Praso in the Central Region.
He noted that the Club spent six million dollars annually to support polio immunisation and other research into communicable diseases to ensure their eradication from the country.
Mr Acquah said the Club, which was over 100 years old with 1.2 million members worldwide was active in ensuring that malaria, polio and the six childhood killer diseases were eliminated.
He urged the communities, especially pregnant and nursing mothers, to use mosquito-treated nets to avoid mosquito bites, adding that keeping stagnant water in their surroundings posed a threat to their health.
Dr. Sekyi Appiah, Agona District Director of Health Services, commended the members of the Club for their assistance and the awareness being created in the fight against malaria.
He stated that out of 100 sicknesses reported at the hospital 50 per cent were diagnosed as malaria.
Dr. Appiah said government spent billions of cedis to import chroloquin for the treatment of the number one killer disease and urged the people to keep their environment clean.
Nana Afesah Danquah, Chief of Awutu Akropong expressed appreciation to the Club for launching the programme in the Awutu-Effutu-Senya District to educate the people on the dangers of the disease.
About 80 treated mosquito nets were distributed to pregnant and nursing mothers at Agona Kunkorantumi and Awutu Akropong after the walk.