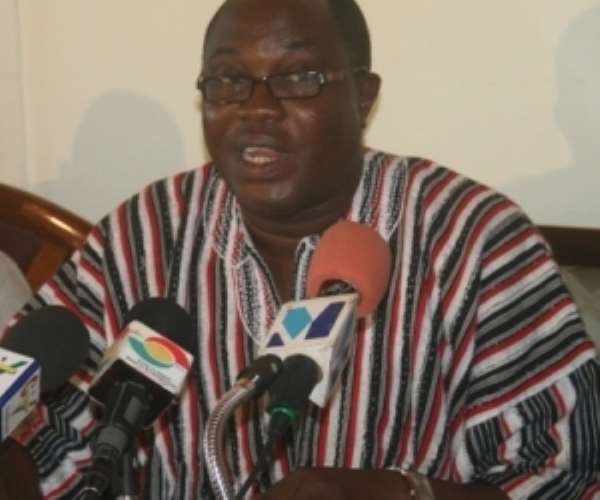 He may, inevitably, have appointed several Akyem-descended Ghanaian citizens into his rag-tag cabinet and government as President of Ghana, but that does not disprove the fact that the Gonja-born Mr. John "Airbus-Kanazoe" Dramani Mahama is not an inveterate hater of the Akyem (See "Akyem Mafia Tag: You Have No Right to Complain – Mahama to Akufo-Addo" Ghanaweb.com 9/5/20). You see, President Kwame Nkrumah had far more Akyems in his cabinet and other significant executive portfolios in his government than Mr. Mahama; but, of course, that did not disprove the globally acknowledged fact that President Nkrumah was an inveterate hater of Akyem-descended Ghanaian citizens.
At any rate, I have reliable information indicating that while, indeed, Mr. Samuel Ofosu-Ampofo, the National Chairman of the National Democratic Congress (NDC), may be Akyem-Abuakwa-born and raised, ethnically speaking, the former Eastern Regional Minister and Mahama-appointed Minister for Local Government and Rural Development is a bona fide Anum native. Besides, were he not a self-proclaimed implacable Akyem hater, the infamous SADA and Akonfem scam-artist would not have been so quick and delighted to share the anti-Akyem comments and sentiments of Mr. Isaac "Ugly Faced" Adongo-Frafra, Mr. Mahama's former Deputy Finance Minister, with the rest of the global Ghanaian community.
We must also promptly put it on record that name-calling is perfectly in keeping with democratic political cultures all over the world, and Ghana cannot be the only exception. Nonetheless, in all civilized and polite societies, there are Rules of Engagement. In other words, there are appropriate name-calling contexts or moments and inappropriate name-calling contexts or registers, rhetorically speaking. For example, when as Ghana's main Opposition Leader, Candidate Addo Dankwa Akufo-Addo described the then-President John Evans Atta-Mills as "Professor Do-Little," a Shavian dramaturgical terminology, it was perfectly in consonance with the glaring practical fact that the former Rawlings' Vice-President was morbidly snail-paced in his attitude towards the socioeconomic and technological development of the country.
The politically evaluative label or concept of "Professor Do-Little" has everything squarely to do with the lackluster administrative performance of the former University of Ghana's tax-law professor, whose death Mr. Mahama told the global community was an auspicious act of Divine Providence. There was absolutely nothing ethnocentric or anti-Fanti about such name-tagging, contrary to what the Bole-Bamboi native would have the rest of the global Ghanaian community believe. But, of course, when he traipses around the so-called Five Northern Regions during an electioneering campaign stumps and calls on all northern-descended eligible Ghanaian voters not to vote for "Kabonga," that is an inexcusably ethnic chauvinist declaration of both personal and public animus. That is a vitriolic attack on all "Non-Atafo" and "Non-Apepefo/Mpepefo" bona fide citizens of the Democratic Republic of Ghana (DRG).
We also need to quickly point out that how cabinet appointees get selected by any newly elected leader of government or political party, has far less to do with the personal sentiments of the President-Elect, per se, than it has to do with the collective leadership of the party so elected or mandated. In other words, if he had deliberately and conspicuously decided to exclude the active participation of representatives from any of the country's major ethnic groups from his government, a President-Elect Mahama would have been promptly and fiercely resisted by the members of his own party's executives, who would have promptly called the Gonja ethnic chauvinist's attention to the fact that the Rawlings-founded and chaperoned National Democratic Congress was not the personal or private property of Little Dramani.
There is also absolutely nothing wrong with calling or name-calling abjectly gross political misbehavior by its most fitting label, such as tagging the man whose own party's founder, former President Jeremiah John Rawlings, has perennially and incessantly described as the most irredeemably corrupt postcolonial Ghanaian leader, such all-too-appropriate names as "John 'Airbus' Dramani Mahama"; "John 'Airbus-Kanazoe" Mahama; and "John 'SADA-Akonfem' Mahama, and dozens of other poor performance-related accolades or sobriquets. Now, what we are talking about here is strictly performance-related name-calling and verifiable factual truths, not such totally unprovoked ethnocentric tirades or invectives as "Don't Vote for Kabonga" or "Kyebi is the Galamsey Capital of Ghana," both of which pejorative epithets are unmistakably laden with ethnic chauvinism.
If, indeed, a then Candidate Akufo-Addo tagged one of his political opponents as "Simpa Panyin," then that was definitely over the bar. You see, democratic politics is inescapably about competitive leadership, so some acceptable form of name-calling is perfectly in order here. What is not morally and behaviorally acceptable is gratuitous abuse of the Mahama-Adongo kind. "Fufu-Kisa-Faced Adongo-Frafra"? That is, somewhat, definitely way out of bounds! You see, we live in the real world of the inescapably human; which is why it reeks of the inexcusably absurd for anybody to suggest that political name-calling is ultra vires. What is absolutely out-of-bounds is "Ashawo Ba," as an electioneering Candidate John Agyekum-Kufuor once had occasion to tag the then-President Jerry John Rawlings. Now, that was inexcusably uncouth. But how about Chairman Rawlings' luridly tagging the then Candidate Akufo-Addo "a woefully ineligible Presidential Dwarf"? If that wasn't irredeemably barbaric, I don't know what else it was.
*Visit my blog at: KwameOkoampaAhoofeJr
By Kwame Okoampa-Ahoofe, Jr., PhD
English Department, SUNY-Nassau
Garden City, New York
September 12, 2020
E-mail: [email protected]