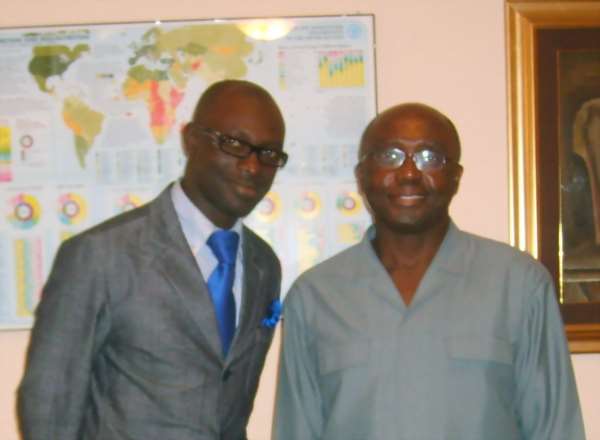 KOFI OSEI BONSU WITH HIS EXCELLENCY MR.AMOAMA
Mr.Charles Agyei-Amoama had his basic education at kpandu evangelical presbyterian middle school,after which he proceeded to the kpandu technical institute in the volta region of Ghana.
Mr.Agyei Amoama thereafter enrolled at the kumasi polytechnic in 1963 where he obtained a diploma in mechanical and electrical engineering.In his quest for advanced educational laurels,Mr.Agyei gained admission to the Kwame Nkrumah university of science and technology to pursue a program of study in mechanical engineering.
After graduating from the kwame Nkrumah university of science and technology in june 1969 ,he joined the Ghana Civil Service initially as an engineer with the ministry of agriculture in february of 1970,and later as the senior project officer with the UNDP/Ghana government agricultural mechanization project based in tamale.
Mr.Agyei-Amoama resigned from the Ghana civil service and joined John Holt bartholomew as a service manager in 1973.In january 1977,Mr.agyei joined the management of kumasi brewery limited as a mechanical engineer.In october of 1978,Mr.Charles Agyei-Amoama and his family relocated to Canada.
In Canada,Mr.Agyei-Amoama worked for consolidated bathurst as a die press operator and also with the university of manitoba as power engineer at the department of physical plant and enerygy management.He moved to Ontario in 1991 where he first worked as corporate engineer with work wear corporation of Canada.In september 1992,Mr.Agyei joined the ministry of solicitor general and corrections as an engineer and later promoted as the chief engineer at the guelph correctional centre.
Over the years,Mr.Charles Agyei-Amoama has served on a number of boards in Canada,including the manitoba intercultural council,the canadian ethnocultural council,and camp prescawa of presbytery of Winnipeg.
His volunteer services also included the presidency of a number of community based non –profit organizations,such as the African association of manitoba,the Ghanaian union of manitoba,national council of Ghanaian canadians,council of African organizations of Ontario and alot more.
He has keen interest in politics,having served as director of the liberal party in manitoba and also as chairman of the Canada and North America branch of the new patriotic party(NPP) of Ghana.
Mr.Agyei resigned as the chief engineer at guelph in june 2002 when he accepted his appointment as the deputy high commissioner of Ghana to Canada.He loves watching soccer,playing table tennis,helping the needy,serving His country and listening to music mostly high life and gospel.
Mr.Charles Agyei-Amoama is happily married with three children,two handsome sons and a beautiful daughter.
On a visit to his office last Tuesday,his excellency assured me that he is going to do all that he can to help promote the good image of Ghanaians living in Italy and the diaspora.He said there is alot of work to be done here in Italy and he is looking forward to the challenges ahead.He did however paid tribute to his predecessor Dr.Dsane Selby for the great work he did whiles in office.
He said preparations are under way for the official visit of his Excellency (President J.A.Kuffour), who is visiting in October.
On behalf of the entire Ghanaian community here in italy,we do welcome his excellency Mr.charles Agyei-Amoama and his family and pledges to support him 100 percent in all his endeavours.Sir,we salute you and welcomes you to the land of fashion.