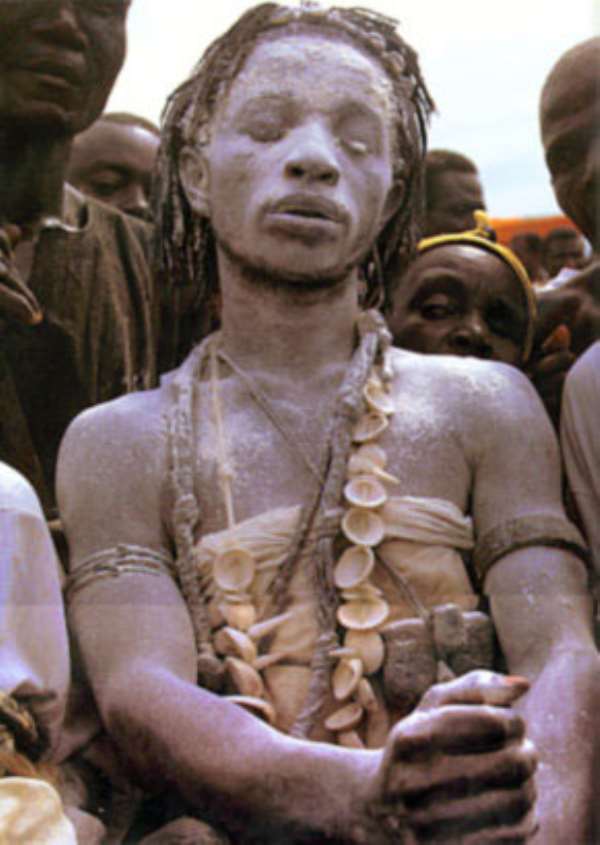 Three fetish Priestesses who pronounced a curse on the Police at La in Accra in a bizarre traditional practice, have returned to perform yet another customary act meant to revoke the curse.The three priestesses, this time dressed in their normal topless traditional white cloth, and accompanied by a retinue, arrived at the police station at about 5.30 p.m., carrying eggs and schnapps.
The Police had mounted a search for the three women threatening to arrest and prosecute them for public nudity. The three priestesses stripped themselves naked in full glare of the public and performed customary rites dragging their naked buttocks on the floor while pronouncing curses on the Police because the Police had refused to bail some suspects.
The incident drew a large crowd to witness a scene, so bizarre and primitive. The Police now say, they are satisfied with the latest traditional ceremony to reverse the curse.
The District Police Commander ASP Ameyaw Nyamekye,who spoke to CitiNews said the woman did what was expected of them and caution the general purblic to desist from such practise as it voilate the laws of the constituition. After the ceremony, they pleaded with the police to drop criminal charges against them.
The ASP told citiNews, the police will not press any criminal charges against them since they had rendered an apology to the police.
The police on Friday, launched a manhunt for the three fetish priestesses to reverse a curse they allegedly pronounced on the police at the station following the arrest of some drivers in the La community for wrongful parking.