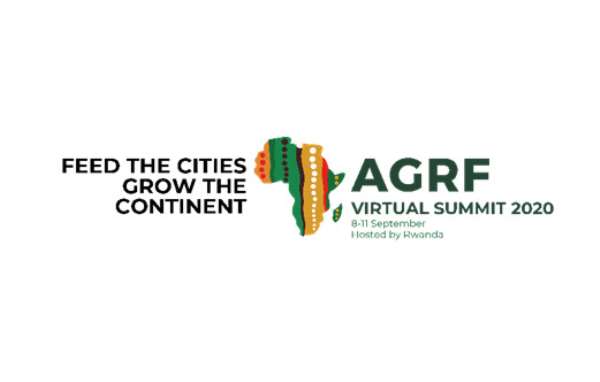 H.E. Paul Kagame, President of the Republic of Rwanda to deliver Presidential Address, followed by Heads of State from South Africa, Democratic Republic of the Congo, Ghana, Ethiopia, and Morocco
KIGALI, SEPTEMBER 11TH - Following four days of insightful and dynamic panels, forums and publications, the 10th annual AGRF will conclude this afternoon with a high-level Presidential discussion, featuring distinguished guests from across the continent.
Speaking on the theme, "Feed the Cities, Grow the Continent", ten current and former Heads of State, alongside the Deputy Secretary General of the United Nations, will address how their countries can build back better and bring about a new vison for Africa on the future of food.
The final day of the world's premier forum for African agriculture will also see the 2020 winners of the Africa Food Prize (AFP) and GoGettaz Agripreneurship Prize announced.
The Africa Food Prize award recognizes extraordinary women, men, and institutions whose outstanding contributions to African agriculture are forging a new era of sustainable food security and economic opportunity that elevates all Africans.
The GoGettaz award aims to find Africa's brightest young agrifood entrepreneurs, bringing technology, innovation, and passion to the agriculture and food industries.
The AGRF is the world's premier forum for African agriculture, bringing together stakeholders in the agricultural landscape to take practical actions and share lessons that will move African agriculture forward.
Please join us using the link in the details below.
For media inquiries, please contact [email protected]
***
Date and Time: Friday, September 11, 2020 14:00 – 18:00 Central Africa Time
Format: Online video, using the AGRF link
How to Join: Journalists can follow the proceedings two ways:
Register and follow through the AGRF Platform: https://agrf.org/
Follow the proceedings on the AGRF YouTube: https://www.youtube.com/channel/UCO2YDbBFz-gsHDz885HxqaA
Summary of culminating session
High-Level Presidential Panel Discussion – Bringing it all 'home'
Framing remarks:
H.E. Hailemariam Dessalegn, Chair of the AGRF Partners Group and Former Prime Minister of Ethiopia
Presidential Address
H.E. Paul Kagame, President of the Republic of Rwanda
Heads of State and Government:
H.E. Cyril Ramaphosa, President of South Africa
H.E. Félix Tshisekedi, President of the Democratic Republic of Congo
H.E. Nana Addo Dankwa Akufo-Addo, President of Ghana
H.E. Abiy Ahmed, Prime Minister of Ethiopia
H.E. Saad-Eddine El Othmani, Prime Minister of Morocco
H.E. Amina Mohammed, Deputy Secretary-General, United Nations
H.E. Paul Kagame, President of the Republic of Rwanda
Honorary guests:
H.E. Benjamin Netanyahu, Prime Minister of Israel
Africa Food Prize and GoGettaz Awards Ceremony
Award of the GoGettaz Agripreneurship Prize
Presented by

Dr. Agnes Kalibata, President, AGRA, Special Envoy of the UN Secretary-General for the 2021 Food Systems Summit (Yara Prize Winner, 2012)
Mr. Svein Tore Holsether, President and CEO, Yara International

Award of the Africa Food Prize

Presented by

H.E. Chief Olusegun Obasanjo, Former President of Nigeria and Chair, Africa Food Prize Committee