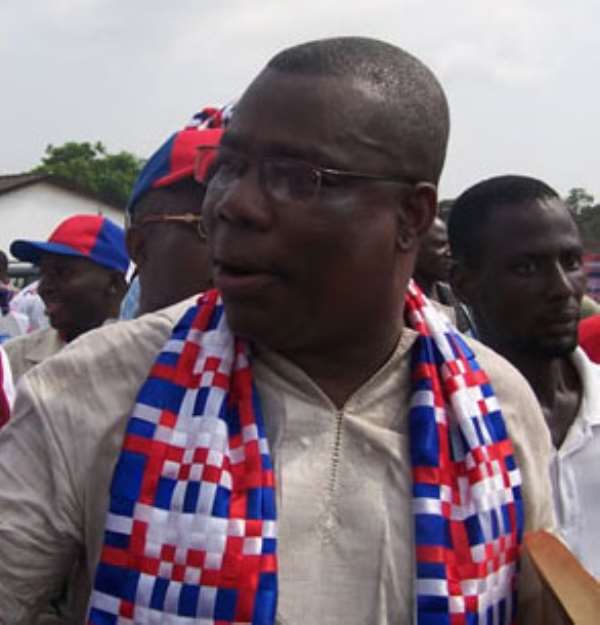 In the wake of the recent historic ruling by the Commission on Human Rights and Administrative Justice (CHRAJ) recommending the dismissal of Road Transportation Minister, Dr. Richard Anane, the Chairman of the ruling New Patriotic Party (NPP), Mr. Peter Mac-Manu has jumped to the Minister's defense.
According to the party Chairman, the Minister was a staunch party member and that his contribution to the NPP as a party and his constituency as a whole, both in infrastructure and human development, far outweighed the implication of the CHRAJ ruling that indicts him on the two accounts of perjury and conflict of interest. To this end, he said the party would not rush to take a hasty decision to declare its position on the ruling of CHRAJ, but would tread cautiously before it finally comes out with its position on the subject matter.
According to Mac-Manu Regional and Constituency Executives of the party, would be involved in consultation exercises to inform the headquarters of the party about how the CHRAJ ruling on Dr. Anane would affect the party in the near future.
Speaking in a telephone interview with The Chronicle on the issue, Mr. Manu noted that the issue at stake had both political and legal ramifications and therefore as a party, they would have to do total consultations on the matter before they could openly come out to declare their position.
On the political ramification, Mr. Manu told the paper that the party would hire the services of a legal guru to study the CHRAJ report and advise it accordingly, as the President had also instructed the Attorney-General (A-G) to do.
Asked what would be the party's final decision should it happen that the A-G's advice to the president and that of the Party's legal counsel to the party conflict with each other, Mr. Manu answered, "that would not happen."
"What about if it happens," asked this reporter. "Adams, are you a politician, even if it happens, we will know how to handle it", the Western- Region-based party Chairman told this paper.
Continuing, he told this paper that though other opposition parties might use the report as their weapon in their various political campaigns to denigrate the integrity of Dr. Anane and the NPP party as a whole, the report, as far as the party was concerned, would not affect the party in any negative way. The party, he noted, has a solid foundation and as such they were not disturbed about the fallouts from the CHRAJ ruling.
Mr. Mac-Manu noted that, "as a party, we are aware of the challenges that would accompany the ruling and were therefore prepared to measure up to that effectively. For this reason, he has urged the foot soldiers of the party to canvass for more souls into the party to seal the party's victory come 2008 general elections.