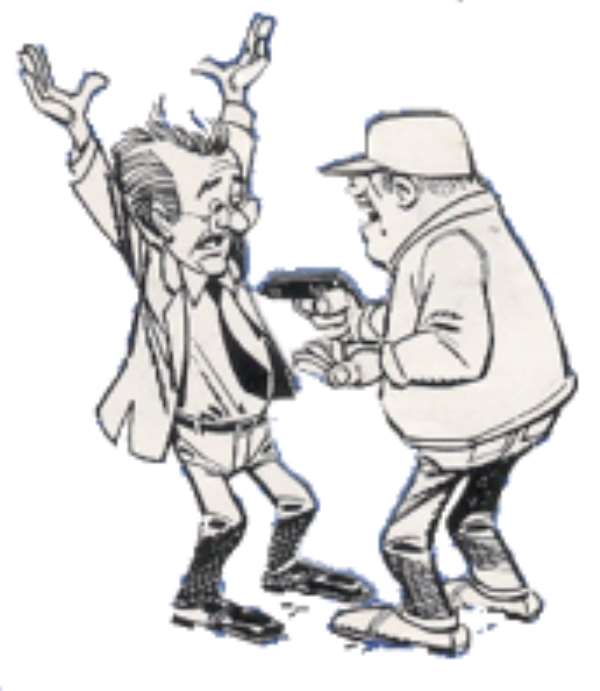 Residents of Larterbiokorshie, have been living in constant fear of robbery attacks for the past two months.
A group of armed robbers suspected to be responsible for a number of robberies in the area are believed to engage in the snatching of cars which they used in other robbery operations.
The latest victim, Mr William Lomo Tettey, a Principal Environmental Health Officer of the Accra Metropolitan Assembly and wife Madam Faustina Tatsi, were attacked by a group of young men wielding cutlasses and a pistol.
Narrating their ordeal to the GNA Mr Tettey said, they were standing by the roadside to pick a taxi to Accra on Tuesday morning at about 05:00 hours when an Opel taxi suddenly stopped. "The occupants charged on us with a pistol and cutlasses and ordered us to surrender whatever we had on us".
He said the robbers pushed his wife down and snatched her bag containing wax prints, children dresses, and cash two million cedis and bolted.
Mr Tettey said a police patrol team appeared at the scene soon after but the robbers had fled before they arrived.
He said when he started narrating the story to the police team another taxi stopped by on seeing the policemen and a young man who came out also complained to them that his Opel taxi was snatched from him at Bubiashie Atico around 02:00 hours the same day.
Another victim, Miss Vida Adaku Lartey, also complained to the GNA that she alighted at Zongo Junction around 11pm on Saturday from a taxi and on her way home she was attacked by a group of young boys wielding a pistol and cutlasses and robbed her of her bag containing cash 200,000 cedis, a mobile phone and her clothes.
She said the robbers came out from a green Isuzu bus believed to be a trotro plying Kaneshie through Mamprobi and Chorkor.
Miss Lartey said sensing danger from being lynched by the residents who came out after she had raised the alarm, they sped off and unfortunately for them the door of the bus removed and fell.
She said the door of the vehicle was still in her possession and that she intended to hand it over to the police.