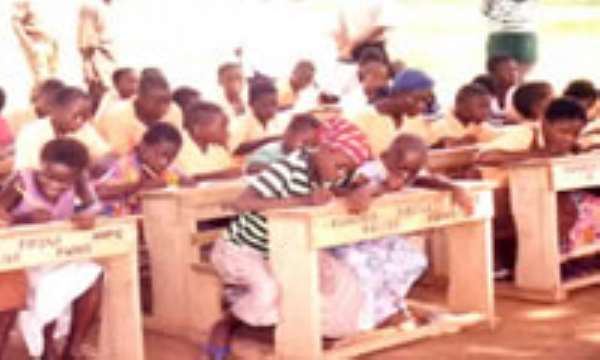 Barely a week after the Minister of Education, Science and Sports had appealed to the National Association of Graduate Teachers (NAGRAT) to pick up their chalks and return to the classrooms, his Deputy has called off NAGRAT's bluff for failing to do so and said their action is even "illegal" and does not warrant attention.
However, the association has snubbed the Deputy Minister, Mrs. Angelina Baiden Amissah's claim and rather accused her of attempting to discredit the good course they are fighting for.
Mrs Amissah who granted interviews to a couple of radio stations in Accra told the striking teachers to go and form partnership with the Ghana National Association of Teachers (GNAT) before they can attract government attention.
She said GNAT is the only recognised body with bargaining agreement certificate, which gives them the right to enter into negotiation with the government.
She said to her best of knowledge, the government has solved most of their grievances, and said a body has even been constituted to work out the adjustment of salary across board for the rank of assistant directors and above.
She insisted that the so-called nationwide strike action embarked upon by NAGRAT is illegal: "It is illegal because we don't have any bargaining agreement with them and the body we have bargaining agreement with is GNAT."
The Deputy Minister stressed that government has no business dealing with them legally: "why do we make the law and decide to do otherwise. Because we decided to listen to them and see how best we could help, they have now taken the law into their own hands and do what they want."
Mrs Amissah further alleged that "only few of NAGRAT's memebers are on strike and what they are doing is just to instigate other teachers. Their strike action is illegal, but whatever they reported we have heard. We don't have any extra money for them, government is thinking of how to improve on their salary for 2007."
On the issue of the Acting Director General of the Ghana Education Service (GES), which NAGRAT said should resign, Mrs Amissah said "the Director General was not appointed by NAGRAT, it is purely administrative and they must allow us to have a due course. Whatever problem they have since the majority group is GNAT they should liaise with GNAT and fight on a common front to get what they want."
Meanwhile, the Chairman of Greater Accra branch of NAGRAT, Mr Angel Carbonu has insisted that their strike action is legal. "This is one of the strangest thing I have ever heard.
NAGRAT is a registered trade union. Trade unions are not registered to go and dance kpanlogo. Trade unions are registered to fight for the interest of their workers" He accused the Deputy Minister of trying to "play the old GNAT-NAGRAT issue to her advantage,"
Mr Carbonu was disappointed that "since the association announced its action, we have not been invited by anybody either through letter or otherwise to sit down to discuss anything."
"This thing has been there for years, that is why the association is seen as a serial striking association. We have raised the issue with the government, we have raised the issue with the authorities of education. It looks as if people at the helm of affairs even don't believe that teachers' wellbeing should be catered for. Because hey don't want to see the reality of the issue," the Regional Chairman said.
He noted that for very long time, teachers in both basic and secondary schools have been dissatisfied about the condition under which they work.
"We have a mockery of an allowance that a head who has a school of population beyond 1,500 is given ¢50,000, as an allowance, a senior house master or house mistress takes ¢15,000 as monthly allowance, form master takes ¢10,000 as monthly allowance. That is what we have been going through all these years," he said.