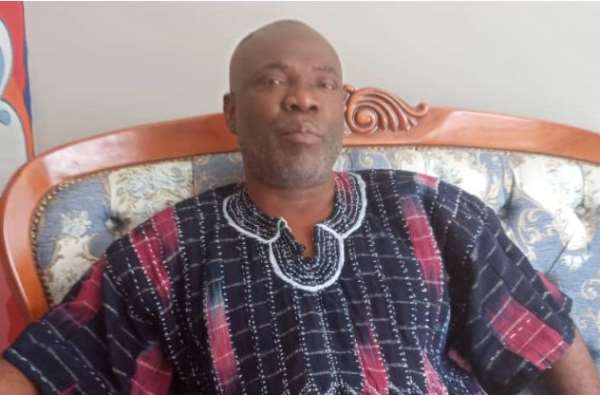 The Member of Parliament for Asene Akroso Manso Constituency in the Eastern region Hon. George Kwame Aboagye has urged Ghanaians to vote massively to retain President Nana Akufo-Addo and the NPP administration in power come December 7th 2020 Elections.
According to him, the president has been the best President so far in the history of Ghana.
"Nana Addo has the country's best interest at heart and if given the second term he will transform this country for good. Per what I have heard and seen in Ghana's politics, I will say he is the best President in the history of Ghana.".
Accessing his chances as the MP and that of the president, he said they both stand a great chance of winning this year's polls, not just that but with a huge margin.
"This year we are winning hands down with a huge margin. This government has done a lot. Comparing what the previous administration did to what the current administration is doing you see a big difference so I will urge Ghanaians and my constituents to vote massively come December 7th for myself and the NPP to do more," Hon. George Kwame Aboagye
Touching on the recently launched NDC People's Manifesto, the NPP MP punched holes in the manifesto insisting that the NDC has nothing good to offer the people of Ghana.
"Ghanaians shouldn't fall for their Manifesto, because governing a country is not a joke to be jolted about," he said.
Asene Akroso-Manso was one of the newly created constituencies or district by the Akufo-Addo administration and is one of the fastest-growing constituency.
Highlighting some of the development projects brought to the constituency under his term as MP, he cited some including the construction of two dormitories at two different senior high schools with a 6 unit classroom; 12 unit storey building; 7 ICT Centre for 7 JHS; Teachers Bungalow; the establishment of an educational fund for needy but brilliant students.
Others are the construction of roads; distribution of hundreds of street lights; 3 by10 sitter toilets facility at Akroso Anomabo; mechanic boreholes, construction of male and female wards; expansion of Manso Health Centre and Akroso health centre; distribution of over 100,000 palm seedlings to the farmers in paving way for the construction of oil palm factory.
He revealed that the oil palm factory is expected to be completed in the next two to three years.
On tourism, he stated that the constituency can boast of the biggest tree in West Africa and the area is under innovation to be suitable and accommodating enough to receive more tourists.
He noted that most of the projects were funded by GETFund, MP's Common Fund, and the allocation of one million dollars per one constituency.