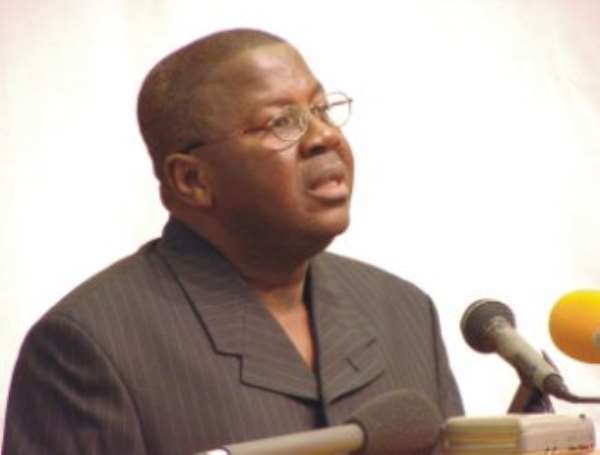 Bad news is good news' has long been a common saying among journalists, a saying that was especially true when it came to the international coverage of Africa. Not surprisingly, Africa's recent image in the world has been largely shaped by famine, poverty and war.
As a part of a larger scheme to reverse this negative image, the government of Ghana held a 'Living Legend State Banquet' on Monday evening in Accra to celebrate outstanding African personalities and showcase African achievers.
Among the seven 'Living Legends' were the UN Secretary General Kofi Annan, the former Liberian interim president Ruth Sando-Perry and former South African President Nelson Mandela.
While Mr. Annan was busy conducting the ongoing UN General Assembly Session in New York, Mr. Mandela had to decline the invitation due to his fragile health.
It was, thus, to the South African ambassador to Ghana, Rapulane S. Molekane, that Vice-President Alhaji Aliu Mahama handed out the award.
Speaking for Mr. Mandela, the ambassador expressed his gratitude for the honour.
Mindful of Mr. Mandela's well known humility when faced with fame and appraisal, Ambassador Molekane said that Mr. Mandela would surely have said, 'I receive this award not for myself, but on behalf of the people of Africa'.
It was in this spirit of humility that Dudley Thompson, a friend and colleague of legends like Kwame Nkrumah, Julius Nyerere or George Padmore and former Jamaican ambassador to Nigeria, used his acceptance speech to evoke Kwame Nkrumah's dream of a united Africa. "Somewhere up there Kwame Nkrumah is looking down and saying, 'Carry on brothers, carry on," he said.
Past and future came together when award winner Babacar Ndiaye, a Senegalese banker who had led the African Development Bank for 10 consecutive years, reminded the audience of the importance of an Africa that would be capable of helping itself.
"Within the next decade it is of utmost importance to have at least five to ten emerging countries in Africa to help ourselves and to build a new image of Africa in the world," he predicted.
Awards also went to the famous Nigerian literate, Wole Soyinka and his compatriot, the President of the African Roundtable, Alhaji Bamanga Tukur. Honours were bestowed on Tumi Makagbo, Kwaku Sakyi-Addo, Adrienne Diop and Bisi Adeleye-Fayemi.