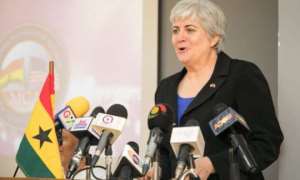 Stephanie-Sullivan, US Ambassador
Accra, GHANA— From September 1-3, 2020, the U.S. Embassy in Accra hosted the first-ever virtual U.S. Franchise Trade Mission to Ghana. Organized by the U.S. Commercial Service, the three-day virtual trade mission brought U.S. franchisors together with 20 Ghanaian investors.
The U.S. franchisors represented a cross-section of popular U.S. brand concepts such as business services, industrial cleaning services, fitness centers for adults, and fitness and learning centers for children.
U.S. Ambassador to Ghana Stephanie S. Sullivan welcomed the trade mission participants on September 1, saying, "I'm delighted to welcome U.S. franchises, which bring successful business strategies and some of the innovative product lines and services for which U.S. businesses are known around the globe, to Ghana."
During the virtual trade mission, the U.S. Commercial Service arranged more than 30 meetings with Ghanaian investors via videoconference. "This was a very successful virtual trade mission, with enthusiastic participation from 20 Ghanaian investors interested in bringing U.S. brands to Ghanaian consumers. We hope to follow this up with an in-person trade mission to Ghana when travel permits," said U.S. Embassy Commercial Attaché Hannah Kamenetsky.
Increasing trade and strengthening the business relationships between the United States and Ghana is a top priority for the U.S. Embassy in Ghana. The U.S. Commercial Service helps facilitate two-way trade and investment between the United States and Ghana and provides timely, relevant, customized solutions to assist in these efforts. To learn more, please visit https://gh.usembassy.gov/business/commercial-opportunities-ghana/ .