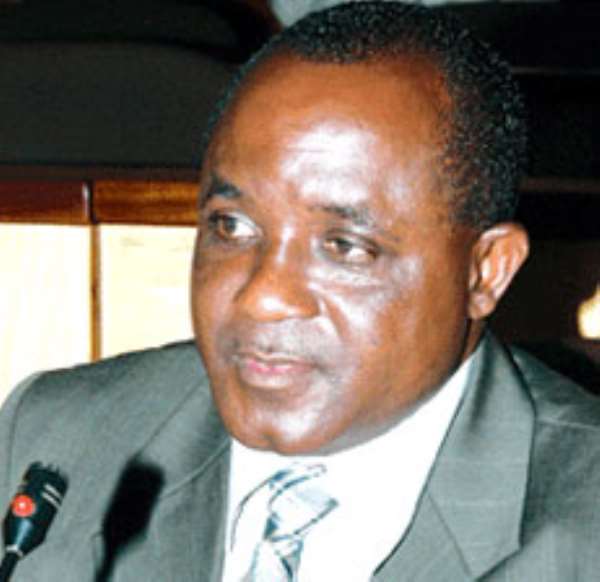 THE PEOPLE's National Convention (PNC) Member of Parliament for Bolgatanga, Mr. David Apasara, has once again censured both Government and Parliament for their inability to respond to ill and inhuman treatments meted out to him by the German authorities on his return from Venezuela to Ghana recently. The Legislator, who stated that he wrote a protest letter and presented it on the floor of Parliament over his bad treatment due to the cocaine menace in the country, which he argued was casting a slur on the integrity of the nation, said until Parliament brought such immigration officials to order, Ghanaians would suffer more of such humiliations.
According to him, he was not surprised that the Speaker of Parliament, Mr. Ebenezer Begyina Sekyi Hughes, was allegedly humiliated recently on his trip back home.
To the Lawmaker, it was untenable that the whites, who are the main cocaine or drug barons, because they manufacture and deal in the drugs, would want to demean the nation.
"They are the cocaine dealers. We are black; we don't manufacture cocaine, and we don't cultivate coca here. It is bad that those who cultivate it would continue to treat us unfairly."
Narrating his ordeal, which was to the extent that he was almost stripped naked by the German officials, Apasera said it was unfortunate that "we don't take our matters seriously".
"I have written to Parliament and I was expecting that the German Ambassador would have been brought to book by now, but I have since not heard from them," he lamented.
The Bolgatanga Legislator made this observation when this paper sought clarifications from him about various ordeals MPs were going through at the hands of immigration officers in foreign countries and how they were finding it difficult to acquire visas for themselves and their relations.
Lamenting further, he said, "I was unfairly treated when I was returning to Ghana after attending a festival. I was almost stripped naked and I complained to Parliament, but since then they have not minded me."
Meanwhile, the Ranking Member of Parliament on Constitutional and Legal Affairs, Mr. Mahama Ayariga, has denied ever being humiliated by any immigration officials.
According to him, though the cocaine menace had deteriorated the activities of the MPs in their bid to acquire visas to relations and family members, the MP for Kintampo North Constituency, Hon. Stephen Kunsu, inadvertently mentioned him as one of the MPs who suffered in the hands of immigration officers.
"I don't remember the last time I traveled outside the country. I can recollect that it was David Apasera, MP for Bolga, who openly told us in Parliament about how he was nearly stripped naked when he was returning home."
Asked how he felt at the indications that he was subjected to various forms of humiliation, he underscored, "I believe that the MP was trying to make a point about the bad situation. His account was accurate. I have no doubt about that except that I was not the one humiliated," he said.
Mr. Ayariga, now a Spokesperson for Prof. John Evans Atta Mills, the aspiring presidential candidate for the National Democratic Congress (NDC), expressed grave concern over how the Speaker was recently treated.
He also reiterated the deteriorating situation in the country as a result of drug related cases and mentioned the present situation of one of nation's Legislators currently languishing in a USA prison cell on drug related charges.
It would be recalled that the opposition MP, Mr. Stephen Kunsu, last week made chilling revelations about the trauma that MPs were currently going through.
In his address to Constituents at Babatokuma on September 11 this year, he named Mahama Ayariga as one of the MP victims who were badly treated by immigration officers.