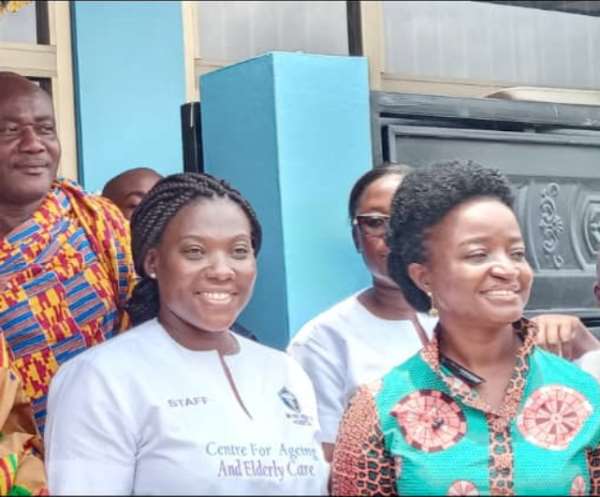 Ghana will for the first time have the benefit of full research on its elderly population with the establishment of the first Specialist Geriatric Healthcare facility at the Metro Health Hospital in Kumasi.
Aside from the care for the elderly, the hospital will serve as a base for gathering data on the peculiar health conditions and needs of persons above 60 years.
This data which will be shared with the Ghana Health Service and the Ghana College of Physicians and surgeons will serve as a reference for policy-making for the country's aged.
Opening the facility, Specialist geriatrician and Chief Executive of the Metro Health Hospital Dr Phyllis Tawia emphasized the urgency of identifying the aged as a critical population who demand special care.
She explained, "Ghana has some policies that exempt or reduce the amount the aged pay to renew their health insurance policies. But more needs to be done in improving access because some cannot even walk around with their canes and walking sticks as there are no proper pavements in many areas."
With time, when we have data on our aged people than we can share information with our politicians and our leaders which will enable them to set up or bring out policies for them."
Deputy Director of health in charge of clinical care with the Ghana Health Service Dr Rita Larsen Reindorf told Ultimate News, Ghana has always depended on data from outside Ghana to deal with ageing related issues.
She told reporter Ivan Heathcote – Fumador, working with the Hospital will begin to reveal the peculiar cases of Ghana to help the country make tailor-made decisions for persons above 60 years.
Dr Reindorf lamented, "There are peculiarities with the ageing process and all the information we have available is coming from elsewhere where they have studied their aged population
So we can't just import what is being done outside and this is the reason I am happy for such a center which apart from providing medical care, is also going to research into the ageing process for the Ghanaian population," she commended.
JUST A DECADE AGO, The world had 600 million persons above 60 years.
This Population of older persons is projected to increase to almost 2.6 billion in 2050,
Per Ghana's life expectancy which stands at 63 years, it is projected that 12% of the country's population will be bulged with persons above 60 by the year 2050, a statistic which will be the highest in Sub Saharan Africa.