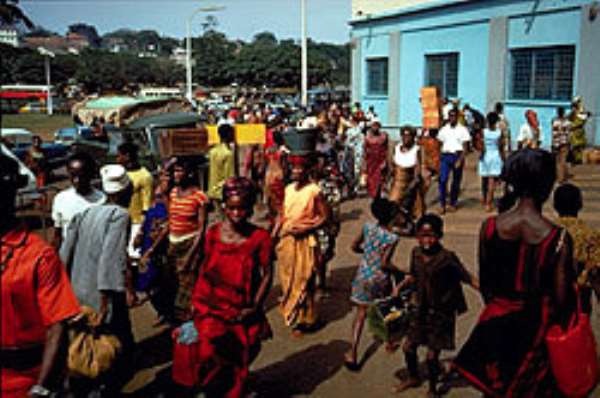 Lower Manya New Patriotic Party (NPP) constituency chairman, Mr. Henry Demah Narh, has made it clear that his party is going to work to see the defeat of the National Democratic Congress (NDC) and win elections in the area come 2008.
According to him, though the elections are barely two years away, the writing is clearly on the wall for the NPP to break the Krobo jinx for the first time in Kroboland.
Mr. Narh spelt out his conviction when he granted The Chronicle an exclusive interview in Odumase a fortnight ago, when he explained that the propaganda that was used to sabotage the seat from the NPP's female dynamo, Madam Dedo Duffie Agyarko, was that she was not a true Krobo woman.
The NDC, he said, had circulated information that Dedo had not gone through the Dipo ritual – the custom where women on attaining puberty must publicly engage in rituals that included baring their breasts for communal gawking. The Chronicle's investigation revealed that this last minute propaganda carried by NDC activists that she was not a true Krobo, plus rumours that she had not gone through this very important Krobo womanhood ritual and was therefore not qualified to lead the people, effectively impacted on the minds of some voters.
Veteran politician, 'Maradona' Michael Nyaunu, went on to win the elections. As the only NPP parliamentary candidate fielded in the Lower Manya Constituency, Dedo came close to annexing the seat for the first time, since it had been an NDC stronghold. Madam Dedo Duffie picked as much as 13,000 votes, but the propaganda cost her the seat and she lost out, while the incumbent, Michael Nyaunu of the NDC, won again.
The Chronicle learnt also that Dedo's performance had so impressed the regional and constituency executives considering that she had only accepted to challenge the NDC MP for the seat on the ticket of NPP barely six months before the 2004 elections, and they are therefore bent on keeping her on to vie in the 2008 parliamentary elections.