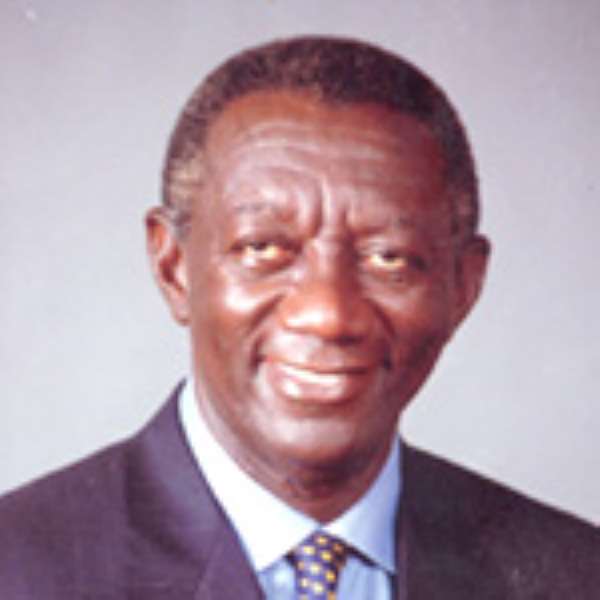 President John Agyekum Kufuor
The President, Mr John Agyekum Kufuor, has assured the nation of his commitment to the rule of law and the institutions of democracy, including the Commission for Human Rights and Administration Justice (CHRAJ).
He said nobody was above the law, a principle he recognised and respected.
This was contained in a statement signed by the Minister for Information and National Orientation, Mr Kwamena Bartels..
It added that the government had taken note of the findings and recommendations of the CHRAJ in respect of the Minister for Transportation, Dr Richard Anane..
The statement said the President, who was attending a meeting of the Non-Aligned Movement (NAM) in Havana, had instructed the Attorney General to speedily obtain the original report of the CHRAJ on the matter for a thorough and critical study in order to advise the government on the appropriate action to be taken..
Last Friday, the CHRAJ presented the findings of its investigation into allegations of corruption, conflict of interest and abuse of power made against Dr Anane..
Clearing him on the allegation of corruption, CHRAJ, however, recommended his removal from office as the findings of the investigations showed that the Minister had given contradictory figures concerning money sent to his mistress, Ms Alexandria O' Brien, under oath before the commission and in a prior appearance before a Parliamentary Select Committee during his vetting as Minister in 2005..
Other recommendations made by CHRAJ was for the government to stop the practice of Ministers having personal assistants and moving with them from one Ministry to another when their schedules were changed and to ensure the compulsory attendance of a course on conflict of interest by Ministers.