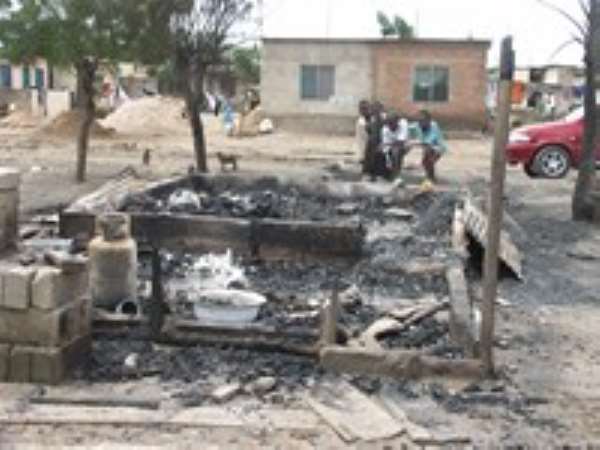 A man and his seven-year-old son died in the early hours of Saturday, when fire gutted their room at Chantan, a suburb of Accra.
His wife, Felicia Duodo, a fishmonger, and their youngest son Augustine Tikwa, one-and-a half year old, received multiple burns, and are on admission at the Korle-Bu Teaching Hospital.
The bodies of the man, Kofi Tikwa, an auto sprayer and Ebenezer Tikwa, have been deposited at the Korle-Bu mortuary.
The cause of the fire is said to have been caused by a lit candle placed close to the wooden structure that the family had used as accommodation for the past 10 years.
Personal belongings, including a television set, sound system, two video decks, refrigerator, gas cylinder and cooking ware were among the debris of the completely burnt structure.
An eye witness, Godfred Ebo Aidoo, who also lives in a wooden house close by, told the Times that the area was without electricity from Friday evening due to the power rationing exercise.
He said the Tikwa family had lit a candle in their room, and around 12:15 am he heard people shouting in Twi, "We are burning, we are burning".
Mr. Aidoo said that they immediately called Peace F.M radio station in Accra, which relayed the information to the Ghana National Fire Service and soon a lot of people had gathered to try and rescue the victims trapped in the burning structure.
"We broke into the room from behind the structure and were able to bring out the woman and the youngest son," he said.
However, he said they were not able to rescue Ebenezer who was trapped under a bed, apparently in an attempt to avoid the fire.
He said before the firemen came at about 1:00 am, they had been able to put out the fire.
Abena Ahemah, a co-tenant of the victims also narrated how Augustine, Kofi and their mother were rushed to the Achimota Hospital where they were given a nurse and an ambulance to take them to the Korle-Bu, but Kofi who had difficulty in breathing was pronounced dead on reaching the hospital.
The Achimota Mile 7 police told the Times that the case has been referred to Tesano District Police Command for investigations.