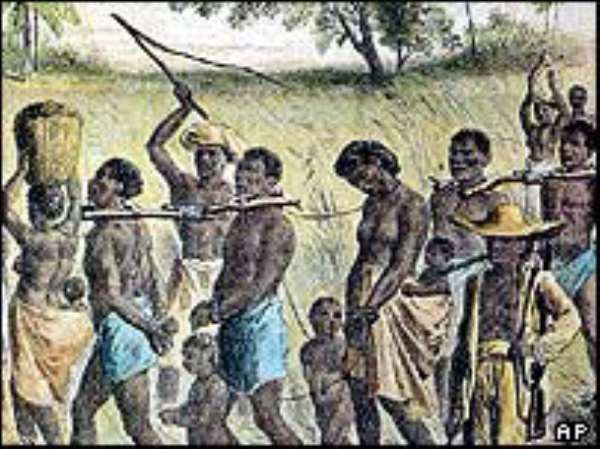 *As part of a tourism campaign to attract descendents of African slaves around the world, Ghana is offering an apology for its role in the trans-Atlantic slave trade, which launched in part from Ghana's Elmina Castle carrying Africans captured by fellow black Ghanaians.
According to The Washington Times, Ghana's 50th anniversary of its independence includes an effort called "Project Joseph," which invites blacks to trace their history to the slave trade and reconnect with the land of their ancestors. An apology will be included as part of the experience.
"The reason why we wanted to do some formal thing is that we want -- even if it's just for the surface of it, for the cosmetic of it -- to be seen to be saying 'sorry' to those who feel very strongly and who we believe have distorted history, because they get the impression that it was people here who just took them and sold them," said Emmanuel Hagan, director of research and statistics at Ghana's Ministry of Tourism and Diasporean Relations.
"It's something we have to look straight in the face and try to address, because it exists. So we will want to say something went wrong. People made mistakes, but we are sorry for whatever happened."
While an estimated 17 million Africans were taken from the western coast of Africa to become slaves in the Americas, millions more died during overland marches to slave-trading forts such as Elmina, after being captured by fellow black Africans.
The idea that some Africans sold their own people into slavery has been downplayed by history books, but it's a fact that Ghana has never tried to hide.
"Long before the coming of Europeans to the Guinea coast of Africa, our local people here already practiced slavery," Philip Amoa-Mensah, a volunteer guide at Elmina Castle, told the Times.
Emmanuel Hagan, director of research and statistics at Ghana's Ministry of Tourism and Diasporean Relations says sometimes a simple apology can go a long way.
"We have something we call the healing to take care of that aspect of the relationship, because we cannot gloss over it," Hagan told the Times. "We just want to say 'sorry,' let's back down, let's calm down. ... I think that if you say "sorry' to somebody, no matter how hard the feeling is, once you say 'sorry,' it mellows things."