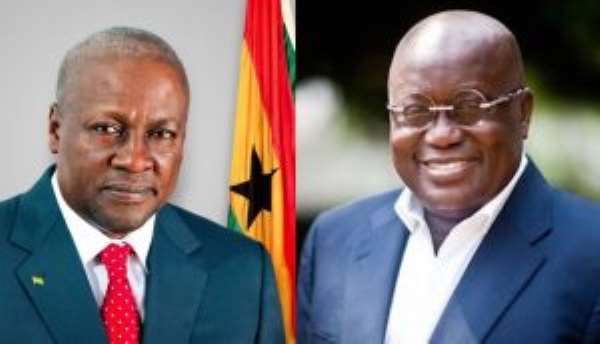 The Nijja card is out. It's now available at Zuza plaza-- Okaishe, in Accra business district centre. You're forewarned though not to rush, because not all that glitters is gold.
A social media user made a jest regarding this Age Card yesterday. And may I crave your indulgence to paraphrase it, he said: If your campaign strategist is an NPP disguised guy,, then you're in trouble. If he's a striker then you're in double trouble. And if he's a goal keeper then you're dead, because you'd have one million goals in your basket.
It seems fmr. President Mahama has all the three guys in his team. And that begs the question.
Thus, I suggest he consults General Mosquito.
He does it better and knows where to pull the strings.
Meanwhile, Mr. Mahama is fired up doing everything humanly possible to get back to the Jubilee House.
Is it the right time?
So, I guess all the chips are down and the tuff is slippery. The tone is changed. And it's come down to this: " The age of Nana Akufo-Addo is shorter than all you young people," says President Mahama.
What has that got to do with governance?
I never knew he's the clairvoyant's eye and could predict one's life and death.
I thought the manufacturer (Mr. Mahama) was going to put the sales on hold, especially after poisoning the political atmosphere with the ethnocentric comment a couple of days ago. However, in just two days Mr. Mahama has played two major cards.
Can one blame him?
I bet he can't be blamed. Momentum is not on his side. His opponent ---President Akufo-Addo born 29 March 1944 is in bed with momentum. Coincidentally, Mr. Mahama was also born on 29 November 1958.
But somehow, the NDC flagbearer isn't focusing on
what they initially pledged to campaign on.
Talking about infrastructure development etc his administration executed during his tenure. Instead, he's been playing-- the age card, the ethnocentric card and I'm pretty sure the next one will be the character card..
You know it's a good feeling to portray yourself as Ninja in a political race. But it's an indictment to hide behind misleading facts. Fact is, governance isn't about musclunity. And it's certainly not about the guy with six packs. It's about who's the right temperament, right judgment and the right vision. A visionary leader knows where he's going irrespective of age.
Speaking somewhere in Accra yesterday the former President gave a misleading comparison.
The analogical fallacy was about him and the man that succeeded him in 7January 2017.
"The age of Akufo-Addo is shorter than all you young people. If you go to the market you see small goat skin and an old goat skin. Young people can die, i agree. But if the natural order is to be maintained somebody who's 20 years is going to live maybe 50 years. I at my age I am going to live shorter. Nana Akuffo-Addo is going to live shorter because at his age in the natural order of this if everybody is going according to his age he's a shorter time. No I'm making a point, because that debt he's not going to pay it."
And he says: 'no I'm making a point '. What's the point here? What's the substance in this analogy? What's its merit (s)? How does it solve the country's problems?
It points to one direction...no vision, I think.
Be reminded this is false analogy, because the argument is based on misleading, superficial, or implausible comparisons. Analogies are usually used for illustrative purposes to make a complex process or idea easier to understand. However, they become false when they're overextended as conclusive proof.
And that's exactly what Mr Mahama sought to do.
Death is no respecter to age. The young can die before the old The chief Imam Alhaji Nuhu Shaibutu is 100 years old.
"The power of an analogy is that it can persuade people to transfer the feeling of certainty they have about one subject to another subject about which they may not have formed an opinion. But analogies are often undependable. Their weakness is that they rely on the dubious principle that, as one logic textbook puts it, 'because two things are similar in some respects they are similar in some other respects.' An error-producing 'fallacy of weak analogy' results when relevant differences outweigh relevant similarities," wrote one social scientist.
By Gordon Offin-Amaniampong