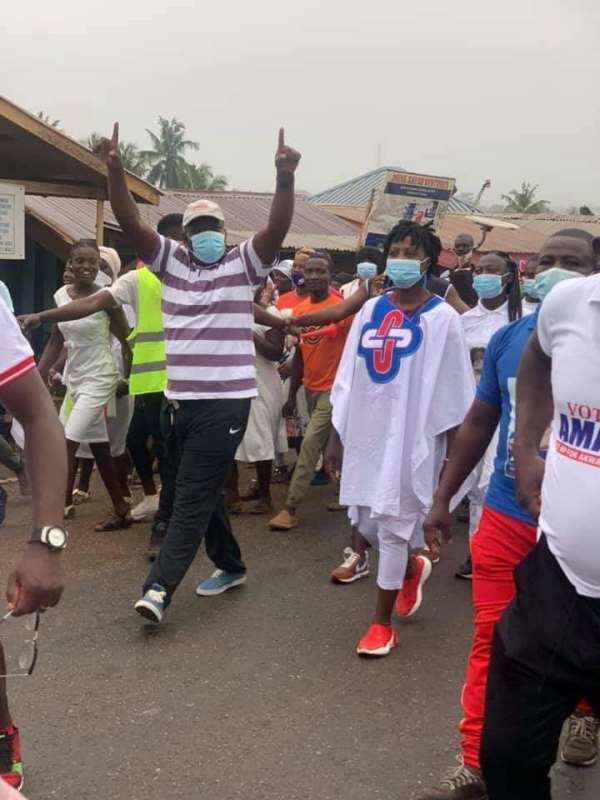 Some supporters of the ruling New Patriotic Party (NPP) in the Akwatia Constituency in the Eastern Region have impressed upon the incumbent MP for the area to contest the December 7 Parliamentary election as independent Candidate.
The MP, Mercy Ama Gyamfi popularly known as Ama Sey, a hairdresser by profession was defeated in the recent parliamentary primaries of the party by a young legal practitioner Ernest Yaw Kumi.
But supporters of the MP have maintained that some top national and constituency executives of the NPP schemed to get her to lose the primaries. She lost by 4 votes.
At a health walk held Sunday, September 7, 2020 by Friends of Ama Sey, thousands of supporters of the party and floating voters thronged the place to declare their support to the MP to contest as Independent Candidate.
They threatened to vote skirt and blouse in the December polls.

"Ama Sey was not treated fairly during the NPP Primaries. They stole the election. The MP has performed well. As MP, she supported many young people in the constituency so we will continue to support her. Kumi is not known in the area, Kumi. If Ama Sey goes independent we will vote for her if she doesn't, we will boycott the entire election.
"Ama Sey must go Independent. Just four years she had done many things for Topraman. She has supported many young girls in acquiring vocational skills, bought them sewing machines, given them money, our road rehabilitated," an enthusiastic supporter of the MP said.
"NPP will lose Akwatia seat. Ama Sey will win if she goes independent. She will go, Independent, retain the seat and add it to NPP seat. Kumi is not known, the election was stolen for him in the primaries, " another supporter popularly called Nobody told Starr News.
---starrfmonline