The government of President Akufo-Addo has been accused of using unconventional ways of borrowing and debt management strategies on both the domestic and foreign fronts. These unconventional methods by government have contributed to Ghana slipping into a high-risk debt distress country.
This is contained in an article by Seth Terkper, Lead Partner for tax firm PFM Tax Africa and the immediate past Former Finance Minister for the Republic of Ghana.
As of June 30, 2020, and based on the most recently published data from the International Monetary Fund (IMF), 8 countries are in debt distress, 28 countries are at high risk, 23 countries are at moderate risk, and 14 countries are at low risk of debt distress. Per the data, Ghana is among the 28 high-risk debt distress countries.
Risk of debt distress (as measured by IMF-WB) and the burden of debt is high in many SSA countries

As recent estimates suggest that economic growth in Africa is likely to fall from 3.2% to 1.8% in 2020 as a result of the Coronavirus pandemic, government revenue is also likely to decline, making the risk of debt distress even greater in the coming year (UNECA, 2020).
According to Seth Terkper, government has been using these unconventional borrowing methods in the last two years or more, with the Agyapa Royalties being the newest method being used as they run out of borrowing options at a time when it has become difficult to access the debt market for funds with potentially high interest rates.
The use of these methods, Mr Terkper in an article copied to norvanreports, confirms the high levels of budget deficit and public debt, making it difficult for the government to continue using acceptable instruments or methods in borrowing from the domestic and foreign markets.
The former Finance Minister is of the view that, the urgency surrounding the Agyapa Royalties deal, may be from pressure to finance the budget deficit projected to hit between approximately 11 to 13 per cent, by the end of the year.
"It seems obvious, after nearly US$5 billion of conventional loans that has increased the debt stock (excluding the BOG financing that is also deemed unconventional), that the urgency surrounding the Agyapa deal may be from pressure to finance the budget. The fiscal deficit, borrowing, and debt trends, among others in the financial market indicators, are worrying," – an excerpt of his article said.
Mr Terkper states that Ghana's budget deficit and public debt is projected to be between 11 to 13 and 70 to 73 per cent respectively by end-December 2020.
Our own checks show that the IMF and the world bank found in 2019 that, 43 low-income countries were either experiencing, or at a high risk of experiencing, debt-related distress – a little over double the number in 2013.
Debt distress is when a country has experienced difficulties in servicing its debt or is extremely close to doing so, which means a government that has missed a repayment or is in the process of debt restructuring.
Those at high risk are generally countries where the external debt burden is large enough to cause concern among its citizens and economic committee.
That can mean falling into crisis if there are large capital outflows, currency devaluations or a fall in export earnings, all of which look likely for low-income countries in 2020.
Government debt has been increasing worldwide since 2010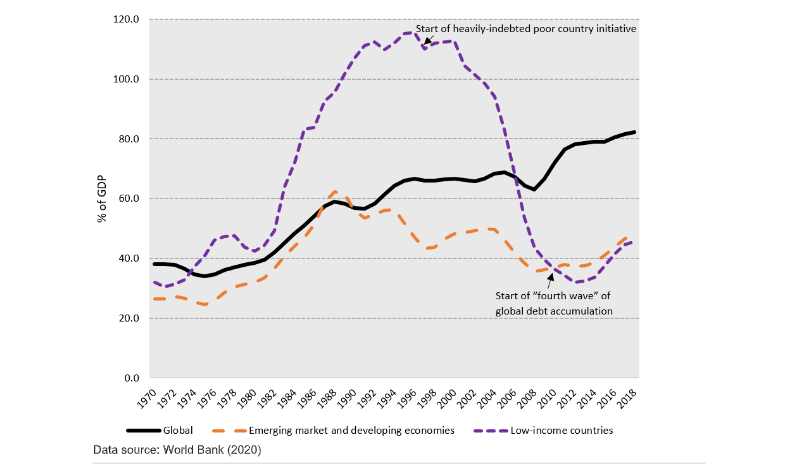 The World Bank in one its report has dubbed this latest period of global debt accumulation as the "fourth wave" -marked by a uniform increase in government debt over the past decade (World Bank, 2020). Norvanreports understand that, It is characterised by a higher share of government revenue being directed towards repayments, particularly for low and middle-income countries including Ghana, this has seen external debt servicing costs rise from 3.9% of government revenue in 2010 to 9.6% in 2018 (chart below).
As this share of revenue increases, governments are forced to either cut expenditure, for example in health or public investment, or borrow more in order to maintain the same level of public services.
This is exactly what the government of Ghana is doing as they need the cash to fund priority projects like Free SHS, year of roads, educational infrastructure among other promises made, including others made for the next four years.
External debt servicing costs are increasing in low-income countries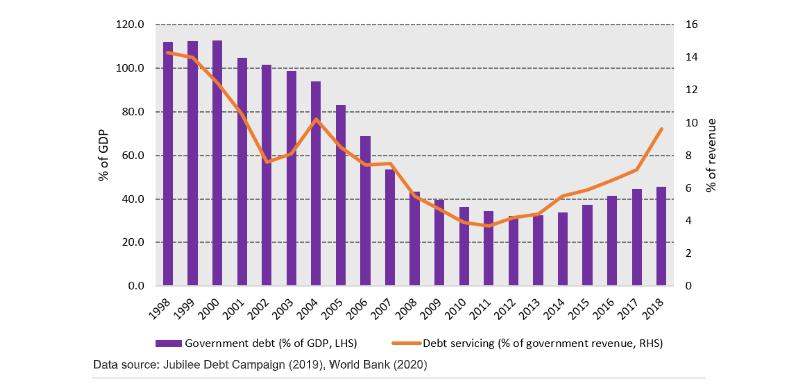 It is important to note that expensive debt as a source of credit, has shifted away from concessional borrowing from multilateral and Paris Club creditors, i.e. European countries, Japan, USA. Instead, more lending has come via non-concessional sources such as China, non-Paris Club members, external commercial lenders, and domestic markets (ODI, 2019). As this is non-concessional, it comes with higher interest rates which increases debt servicing costs, according to the International Growth Centre (IGC).
Low, Middle-Income countries now owe a higher proportion of their debt to external sources, making them more vulnerable to external shocks such as currency depreciation and capital outflows, as well as worsening economic distress in times of financial crises (World Bank, 2020).
Not to shift from the argument being made by the Former Finance Minister, Mr Seth Terkper, find below, the enumerated unconventional borrowing methods used by government since 2017 in His article:
Unconventional borrowing and measures
As noted, it appears that the Government is already finding it difficult to borrow through traditional sources and is resorting to unconventional methods.
2017 US$1 Billion Domestic Bond: Upon coming into office in 2017, the government issued a large Dollar ($)-denominated and sole-sourced domestic bond at a rate of 19 percent. The rationale for this significant borrowing, despite the issuance of a Sovereign Bond, it was believed to have been done to raise funds to finance the expenditures relating to campaign promises, notably the Free Senior High School (FSHS) program.
SYNOHYDRO Loan Facility: The most significant bilateral non-bank facility or loan taken by the Government was from SYNOHYDRO, a Chinese firm that has been in Ghana for over a decade. It is to provide about US$1 billion loan in exchange for the right to mine bauxite which proceeds was to be used to repay the loan.
Mortgage of GETFund flow: In 2018, Ministry of Finance took a loan in exchange for future flows from the Ghana Education Trust Fund (GETFund), presumably to fund the high commitment to education expenditures that is unstainable to finance from normal budget and borrowing sources.
Discounting arrears: After the set-off, rather than cash payments for uncompleted contracts depicted as arrears, in the 2017 Budget, the government used "off-budget" mechanisms to settle large portions of about Ghc5 billion at a discount—effectively, a subsidy from the contractors.
BOG Deficit Financing: Recently, Bank of Ghana (BOG) extended a facility of ten and half billion Ghana Cedis (GHc10.5 billion) to the Government. While the general view is that it is in support of COVID-19 costs, the Bank MPC report notes that the facility is extended to alleviate Government's difficulty in assessing the markets for funds and potential high interest costs.
This means, the MPC admits to explicit deficit financing exceeding 50 percent of the projected 2020 Budget deficit, compared to only 5 percent allowed in the Fiscal Responsibility Act, 2018 (Act 982)—a level not reached in nearly 40 years since the 1980s Economic Recovery Program (ERP) or Structural Adjustment Program (SAP) reforms.
The Government has also used unconventional methods in debt management to augment their unconventional contracting of loans.
"Tap-Ins" on domestic markets: on several occasions, the government has not been able to realize the monthly amount required in the tenders or auctions (called "uncovered" auctions) in the domestic markets to meet rollovers of existing debt and augment GRA and other sources of revenues, including loans. While this occurs periodically in budget administration, it is unusual in the context of the "unprecedented fiscal consolidation" that the government claims to have achieved in nearly four (4) years. As the 2020 Budget notes (2020 Budget, p 34; par. 138)
"The higher-than-programmed" financing (especially from domestic sources) stems mainly from the frontloading of financing requirements to meet Government expenditures and other debt service obligations, including for the settlement of "uncovered Government auctions" following substantial revenue shortfalls" (emphasis added).
Extension of debt repayment dates: Another so-called biting "success" is extending the repayment period of existing debt, particularly "non-concessional sovereign bonds" to long periods of fifteen (15) to forty (40) years. As a result, the nation continues to pay interest and suspends the repayment of principal—while it piles on new debt. Estimates show that Ghana now spends about 120 percent of revenues to pay interest and repay principal—meaning it is engaged in unplanned borrowing to pay existing debt.
This approach contrasts with the use of petroleum revenues, through the Sinking Fund to redeem or repay domestic and foreign bonds—as with repaying US$500 million of the total US$750 million commitment on Ghana's first 2007 Bond under the immediate past NDC government. The government suspended the plan to continue with this approach to a more efficient and effective debt management from 2017.
Exit of non-resident investors: When Ghana launches a new or existing domestic bond (unlike treasury bills), it allows foreigners to take part in the bidding. While this makes the markets for domestic bonds liquid, a worrying aspect is the tendency to "exit" with notice. The exit and non-participation put pressure on budget financing and, since they are foreign flows, on reserves and stability of the currency. This is the context to read meaning into the following statement from the Budget:
Source: Norvanreports I Norvan Acquah-Hayford I Fuaad Dodoo
www.norvanreports.com