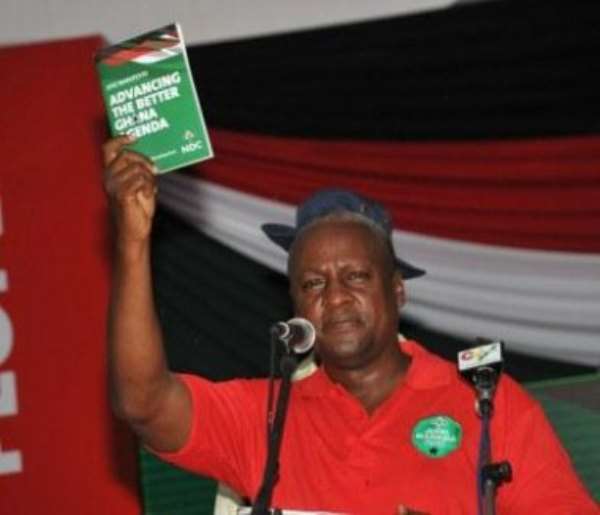 Fellow Ghanaians of noble birth, l call on you to reject the NDC manifesto immediately it is launched this evening, Monday, 7 September 2020. No matter how juicy and appetizing it will appear, it is all lies.
Had John Dramani Mahama not said that as a politician in election year he will tell you both lies and truth as far as his lies can turn your heart to him to win the election? Where then is the guarantee that he is not telling you sweet lies in his manifesto just with the intent to get you to vote for him and the NDC?
Don't let him continue to fool you, taking you for a bunch of ignoramuses with a short memory.
Have Ghanaians so soon forgotten about how he disrespected you, saying even though you elected him to the presidency, he will not listen to you because you have never been at the presidency before? How then should you in your right senses allow your intelligence to continue to be insulted by this womanising entity who aimlessly spends the taxpayers' money on succulent damsels for his uncontrollably sexual gratification?
He disbanded Okada, truly seeing it as dangerous, causing road accidents. However, for our little mindedness and forgetfulness emanating from our short memory, as he mockingly says, he is today telling you he will legalise Okada services. You are clapping your hands for him on this announcement. What is the guarantee that he is not lying to you as far as this populist policy goes?
Mahama and his bunch of Ghanaian thieves, a version of the Arabian Ali Baba and his forty thieves, are launching their manifesto crafted to plunder Ghana, this evening. Nevertheless, it will not sway any discerning Ghanaian since we know him already. He is incompetent, clueless, a womanizer who spends Ghanaian taxpayers' money making his side chicks rich and happy.
Treat this "Papano" with the scorn he deserves. His brother has contributed to the collapse of two banks, taking millions of dollars and Cedis without ever honouring his loan payment agreements.
Do Ghanaians want Mahama back for his brother to start again issuing dud checks in payment of his import duty taxes? Tofiako!
I am sharpening my knife ready to dissect and rubbish the NDC manifesto. They have only lies but not anything of substance for Ghanaians.
The battle is still the Lord's. Vote for the visionary Addo Showboy but not the short-sighted long arm Mahama.
Rockson Adofo
Monday, 7 September 2020