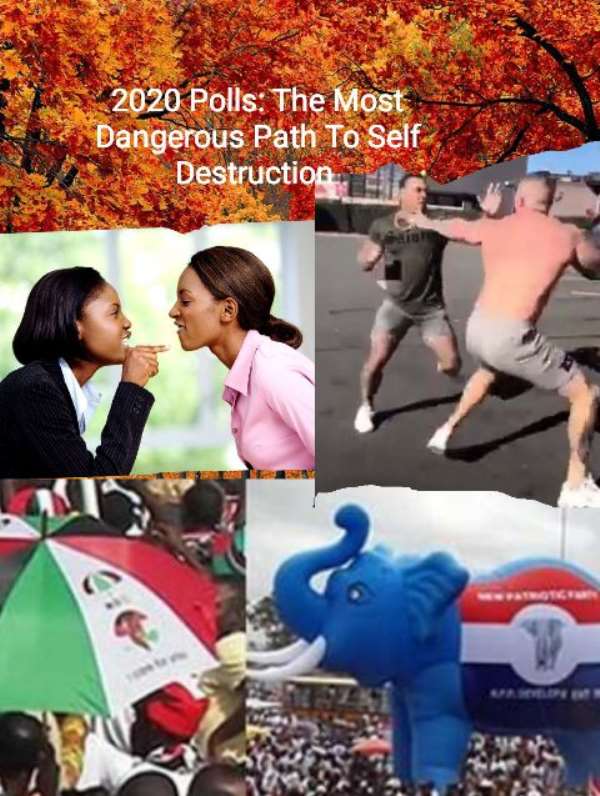 Once in the street of Goka, two women from one womb were involved in a brawl, exchanging war of words which started not much fiercely. Their names, the sisters fighting, were Mama and Adoma.
It's said by those who witnessed from the beginning the eyesore sight between these two siblings of the same blood, that; they'd not imagined the sad end of what started as a normal misunderstanding that's not uncommon to all human settlings.
Until Adoma said to her half-sister that: "you, I don't envy your social status at all. It's so abased, and never deserves my respect or others who think like me. Because, the very man you share your bed with, your husband, is a foreigner to our noble Gokaland. Where he's from, the people there are only employed as labourers, slaves, to our kinsmen here. So, like we say here: _kɔfiri kwansoɔ na ɔware timamuhunu_. To wit: "it's the stranger that marries a hopeless citizen".
Replying in equal measure, or harsher, Mama said to her sister: "which is better, marrying a labourer, a strong slave, or, mortgaging your heart to a swindler who harvests where he never sowed, who cares even if that dubious character is the most handsome Prince of the Goka Kingdom?"
Mama's response tore to the core the very heart of Adoma. So she left the scene and reported her sister to a respected Friar, (or a pastor the today's generation will call him) in the Kingdom to reprimand Mama for her unsavoury remarks against the person of her lovely husband.
Mama was eavesdropping when Adoma was reporting her to the Friar. Hearing every word Adoma uttered, she Mama accosted her sister when she was leaving the venerated presence of the Friar. She repeated same words, and even said more damaging words that sought to erase any reputation left in the Adoma's household.
The husbands of the two sisters were informed by talebearers, of how their wives are washing their dirty clothes outside, mudslinging one another, with the husbands' names reduced to a carpet that only serves the good for others to walk on.
In a flash, the two husbands of the fighting sisters appeared at the warring scene.
Hearing enough from those who carried to them the history of the brawl, seeing same themselves, boiling with anger, the two husbands resorted to redeeming their maligned characters by exchanging fisticuffs to appease for the insults hurled by their wives on them respectively.
The two husbands fought till they all fell dead.
The death of their husbands ceased the fire between the two sisters. Abruptly, the war of words in irksome name-callings ceased without a third person's interference. They recoiled to their homes to mourn the sudden deaths of their husbands as widows clad in black clothes.
Their tears never dried from sobbing, for contributing to the deaths of their husbands, with whom they've not yet had offsprings.
No man in Goka or from other land dared to risk their lives marrying these two sisters who by their poor judgements send their husbands to their early graves.
So, Mama and Adoma did not outlive their husbands for long. As if they planned it, their neighbours forced opened their doors one morning when they'd been in their rooms for an unusually longer time. Mama, by her own hands had stabbed her stomach with a dagger, and her intestines gushed out.
Whilst in Adoma's room, she hanged and dangled on the ceiling with her neck tied with a rope, and her tongue protruding out of her mouth, and her eyes coming out of their sockets fearsomely.
By their tongues, two sisters from one womb, ended the lives of two able men, their husbands, and their own lives followed. They didn't leave behind any offspring to succeed them. Their names were wiped from the minds of the Goka people. What the people know about them today which we've narrated now, is documented in the Knowledge Vaults, in the Royal Archives, of the Goka Palace to remind every living soul the most dangerous path that leads to self destruction.
So narrated, will the National Democratic Congress (NDC) led by President Mahama, and the New Patriotic Party (NPP) led by president Addo, be told this story of Mama and Adoma, in this electioneering period in Ghana, vis-a-vis the brawls between their two camps lately?
Long live Ghana !!!!
Written by: Charles Yeboah (Sir Lord)
The Founder Of One Ghana Movement (#1GhM)
Contact/WhatsApp: +233249542111
Email: [email protected]