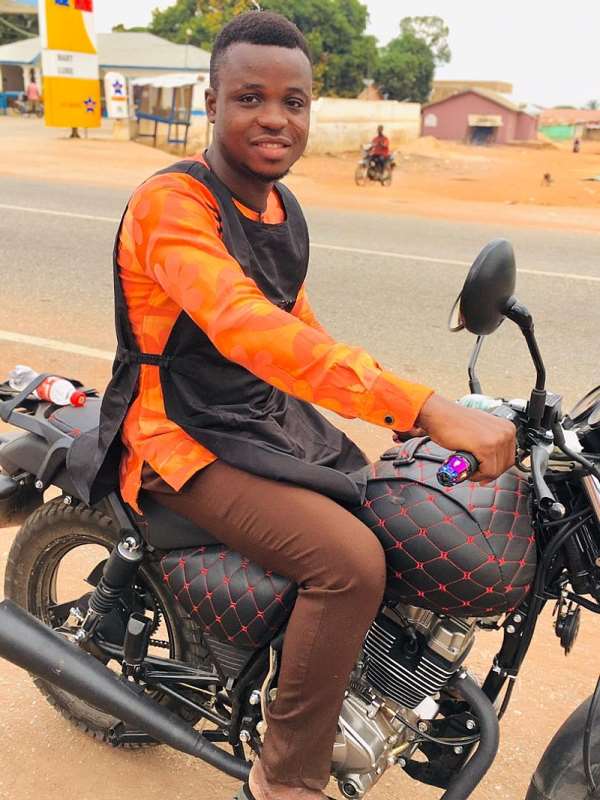 The pledge made by John Dramani Mahama to legalize, train and regulate the okada business if voted into power come December 7th 2020 has ignited public debate as to whether okada business should be legalized or not.
Politicians, civic service organizations, economist, public safety organizations, okada riders, and many other Ghanaians have laid down their arguments either for or against the legalization of okada business.
Historically, 'Okada' (motorcycle taxi) originated from Nigeria. The name was borrowed from Okada Air- a local airline that was not popular for its comfort but remained the most used local airline in the country. The first group of motorcycle transporters was then given this name, okada because they could manoeuvre between the heavy traffic of lagos and take you to your destination in time, just as okada airline did.
From the above paragraph, one could deduce that even though okada airline was not comfortable, it was the most used means of transport because of its community penetrations. The emergence of okada business in many African countries such as Nigeria, Togo, Benin, Burkina Faso, Liberia, Rwanda, and Ghana and among others was met with wild allegations and perception about its negative impact on the societies. The resultant effect of these perceived negativities of okada business was the banning and making it illegal in many countries including Ghana.
'Okada' initially referred to motorbikes (single lane motors), has subsequently covered tricycle motors popularly known in Ghana as, ABOBOBYAA, MOTOR KIA, PRAGIA, YELLOW YELLOW and other interesting names in different countries and places.
The major issue that has characterized the ongoing argument against the legalization of okada business is its accident rate and the fact that criminals are using it for criminal activities. But many people too have failed to critically examine the economic and other positive aspects of the okada business.
Before I make my case, let us consider these questions:
What brought about this okada business?
What influenced its banned?
Has the banned achieved its purpose?
Is the okada business even boomed after the banned?
Are people earning income from it?
What is its fatality rate as compared to other means of transport?
What will be the situation when it is legalized?
What measures will government put in place to make it safe?
In seeking answers to the above questions, one could appreciate the dynamics of the okada business.
Basically, okada business originated as a result of traffic congestion on our major roads, poor nature of our roads, inefficient and high cost of our transportation. Okada services addresses minor individuals and rural transport challenges. It eases the daily stress and cost of transporting passengers, goods and service from one place to another and also provides the owners and drivers some level of income to meet their daily expenditures.
The banning and making okada business illegal in many countries including Ghana was basically because of its emerging risk and fatalities. But in my view, these actions by authorities were rushed and failed to critically examine the economic and future socio-cultural changes. The okada business seems to have even seen much booming after it was banned in 2012 in Ghana. This is because many unemployed youth depend on it for survival and even people who are employed in the formal sector are also using okada as additional source of income. At least okada operator makes a daily sale of ghc70 in a day after all other expenses. You can imagine how much they make in a month.
Economically, the okada 'industry' has employed thousands of Ghanaians (graduates, non-graduates) and they earn reasonable incomes from it. It has generated a lot of incomes to owners, riders and many Ghanaians. It has also reduced the traveling cost of many rural dwellers because they charge far lower than Taxi and other cars and if legalized, it can generate a lot of revenue to the government.
Before one would kick against the legalization of okada business, the person must consider the following question;
What influenced the introduction of okada business?
What makes it illegal?
Have nations succeeded in stopping okada operations?
What is the socio-economic impact of okada business on people lives?
How best can we regulate the commercialization of okada business?
How can government generate revenue from it?
Yes! Okada may have its unfavorable impact on people but as corona virus has come to stay and we are living a new normal life under health measures and protocols, okada business has also come to stay and the best way to live safely with it is to put measures and protocols in place to make it more safe for both passengers and riders. Many countries including Rwanda have legalized and commercialized an okada operation which is yielding positive results. Comparing okada to nabco in terms of employment and benefits is a pedestrian analysis.
One thing people must understand is that unemployed youth in this country is of different categories of which nabco is dealing with a miniature portion of it. Legalization of okada must come with a broader stakeholder's consultation to ensure smooth implementation.
The following can be considered;
Formation of okada union at the district levels through to national level. When this is done, anybody who wishes to engage in okada business must register with the association so that comprehensive data on okada owners and drivers can be obtained.
Compulsory and intensive training for okada riders must be regularly done at the district levels. Ministry of transport in collaborations with road safety commission and MTTD of the Ghana police service can organize training on road safety and traffic regulations for these okada riders.
Licensing and identification cards should be issued to qualified okada riders after going through the training. When this is done, passengers can demand for okada riders' license or identification cards before patronizing their services.
All motors use for okada should have insurance cover to cater for unforeseen incidences.
Regularly public education and monitoring of will ensure the safety of both passengers and riders.
Other countries have commercialized okada and regulating it. We too can do same.
Legalization of okada is a MUST and not an option.
#legalizeokadanow!!!