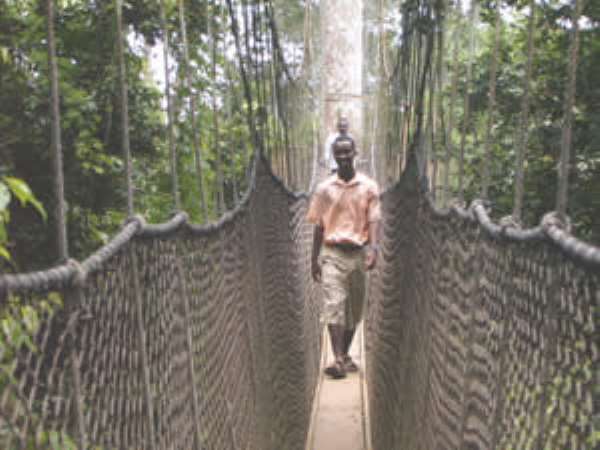 The Canopy walkway at Kakum Park.
Ghana ranks 10th in terms of tourist arrivals in Africa and considered a serious emerging market with high potentials on the continent, participants at TourismAfrica 2006, currently taking place in the Swiss capital, Geneva, heard on Thursday. Mr Martin Mireku, Executive Director of the Ghana Tourist Board, told some delegates including professionals and business people at strategic meeting on the sidelines of the event that there was relative stability in the country and that it was well positioned to serve as gateway to West Africa.
"We have the potentials and we'd continue to develop strategies to meet the world's tourism needs," he said.
The Geneva event was the first of its kind to foster the investment and financing of tourists projects and has attracted both African and international decision makers from the public and private sectors to interact through a congress, an exhibition and strategic business development fora.
Although the advertised aim of the event was to facilitate the growth of the industry in the entire Africa, participants were mostly from francophone countries.
Mr Mireku, who represented the Ministry of Tourism and Diasporan Relations, also spoke about Ghana's 50th Independence anniversary celebrations, slated for next year, as well as the country's hosting of CAN 2008 sporting event, saying they presented good opportunities for visitors to have a good taste of Ghanaians and their unique culture. He also had a brief interaction with the only participating group from Ghana, led by Mr Simeone Quadjovie, operators of ABSCO Travel and Tours, who also doubles as the head of Air Business Services in Ghana. Speaking to the Ghana News Agency later, Mr Mireku identified as "prohibitive" the cost of air travel to Ghana from other parts of the world, such as Europe and the Americas, saying this posed a major challenge to efforts at making tourism the country's biggest cash earner.
Observing that the event was two-thirds dominated by francophone countries, Mr Mireku said he might recommend to government, strategies on how best Ghana could re-enter the Francophone market, in addition to its target of the Diaspora.
"We have all its takes to roll out to the outside world, so what is left is to get our products and services well-packaged to suit customers' demands," he added.