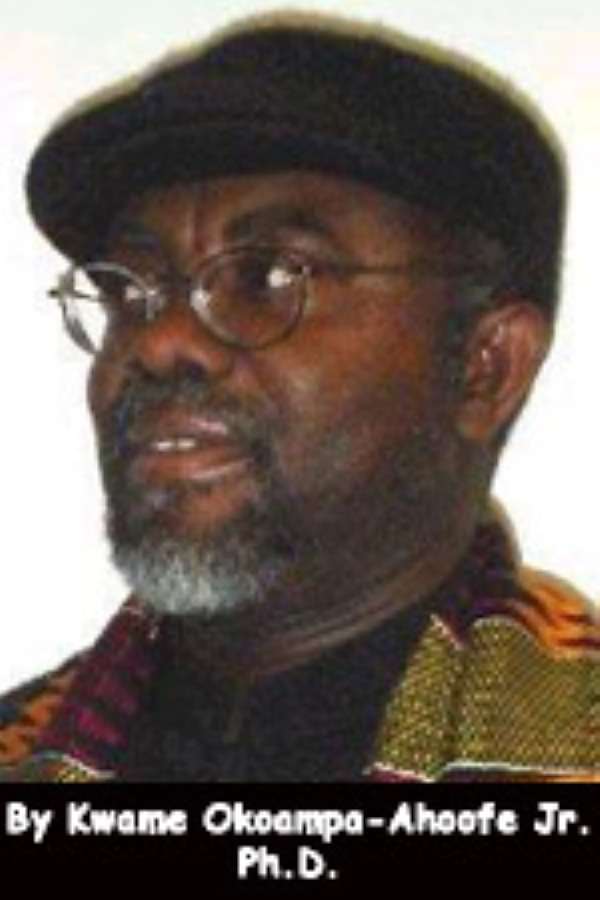 The problem that Little Dramani has in the leadup to the 2020 Presidential Election is that the former President has, to borrow a word from former President John Agyekum-Kufuor, already occupied the "pinnacle" of Ghanaian leadership, all in all, for some 8 protracted years, four-and-half of these as the substantive President of the Sovereign Democratic Republic of Ghana. As New Yorkers are wont to say, Little Dramani has already been there and done that. Well, not quite. The fact of the matter is that although the infamous "Shit-Bomber" has been there all right, the man did absolutely nothing both as Vice-President and Second-in-Command to the late President John Evans Atta-Mills. Actually, I need to backtrack a little: You see, Little Dramani did do something, except that that something was not in the sworn service of the taxpaying people of Ghana.
Rather, he spent most of his comfortably salaried tenure creaming payolas from humongous contractual deals for which he was expected to represent the inviolable interests of the very people who had voted to put him and his immediate boss in the august seat of Presidential Power. He would negotiate for payolas and criminally shortchange Ghanaian taxpayers and deposit these humongous kickbacks in his foreign bank accounts. Indeed, legend has it that most of his stolen wealth has been invested in commercial properties in the fantasy city of Dubai, in the United Arab Emirates, where one of his unknown number of adult sons, Shafik, recently wedded a North African Arab woman in a lavish ceremony. Not surprisingly, Little Dramani has consistently denied these legion allegations and even lightheartedly claimed that he did not have even half-a-million US dollars in his bank account, although the Forbes' List of the Richest Ghanaians has Little Dramani being worth at least some $ 900 Million (USD).
Which means that strictly speaking, the Bole-Bamboi-born and Achimota-schooled John "Airbus-Kanazoe" Mahama is virtually a billionaire. And we all know that most of his wealth is stolen wealth. Which is also precisely why this 61-year-old playboy, it is widely alleged, scandalously seems to be so out of touch with the reality of the hardscrabble existence of the ordinary working-class Ghanaian citizen. Which is also why Little Dramani thinks that the auspicious implementation of the fee-free Senior High School System by President Addo Dankwa Akufo-Addo, and the equally visionary implementation of the Double-Track System, as a means of ensuring universal access or that no child is left behind is wrongheaded, criminal and one that woefully lacks common sense. Now, don't you dare ask me what is Little Dramani's prescription drug of choice.
You see, Little Dramani is a class-fixated elitist who thinks that only the children and grandchildren of the very rich and most powerful in Ghanaian society deserve to freely access secondary and tertiary education. The rest of us lumpen proletariats must wait until such time that he is returned to power, so that he would be able to complete the erection – no pun intended here, Dear Reader – of the 200 Senior High School E-Blocks, so-called, that he promised in the leadup to the 2012 Presidential Election, only about 40 of which, at the last count, he was able to complete, though not fully furnished for ready use. That was over the course of some four-and-half years. Now, what this means is that given a full term in office, plus the six months on the calendar that was abruptly left uncompleted by the "mysterious" passing of President John Evans Atta-Mills, Little Dramani was only able to fulfill 20-percent of his promise.
What the foregoing means is that if the children of the lumpen poor and the working-class were to take him at his word, that is, by waiting for Little Dramani to complete all 200 E-Blocks, it would take at least 24 years or six terms in office, by which period most of the students who are presently taking advantage of the Akufo-Addo-implemented fee-free Senior High School System would have had their chances for academic, professional and vocational skills enrichment or training effectively wasted and ended up functionally illiterate and, at best, unemployable and only suitable for hiring at menial and minimum-wage jobs, the kinds of jobs that even Little Dramani would not have his own children and grandchildren sweat and toil at.
He also says that Nana Akufo-Addo does not need to be commended for implementing the fee-free Senior High School Policy Initiative because it is already etched into Ghana's Fourth-Republican Constitution. The catch here, though, is that during 16 of the 28 years of the Fourth Republic that the National Democratic Congress has been at the helm of our beloved country's affairs, beginning with President Jeremiah John Rawlings, absolutely no progressive attempt was made to implement the fee-free Senior High School System. Either Candidate John "Embraer" Mahama is strung high up on drugs, or the "Ganger Boy" is simply a clinical idiot. Absolutely no apologies are warranted or deserved here. I wouldn't even let this pathologically hopeless Akua Donkor's moneybag carry my waste-steaming chamber-pot.
*Visit my blog at: KwameOkoampaAhoofeJr
By Kwame Okoampa-Ahoofe, Jr., PhD
English Department, SUNY-Nassau
Garden City, New York
September 5, 2020
E-mail: [email protected]