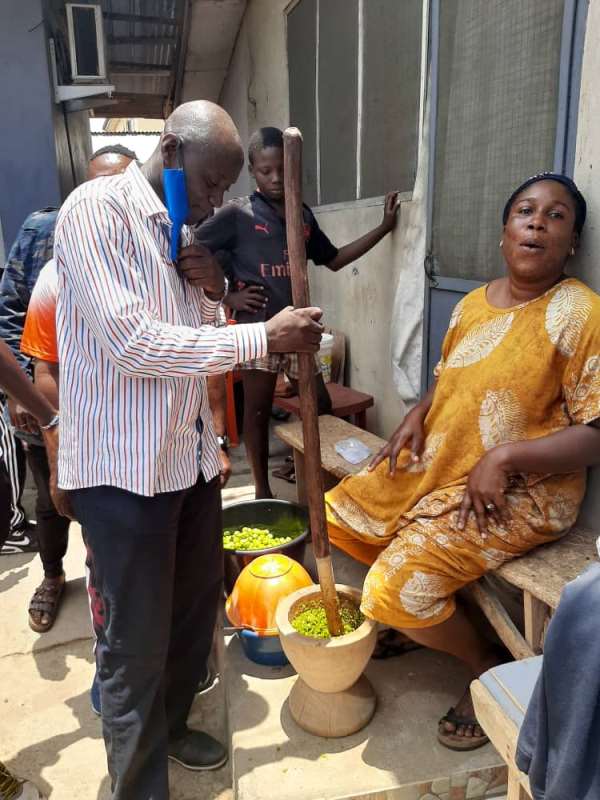 Alhaji Manaf helping a female constituent
The New Patriotic Party (NPP's) Ayawaso North Parliamentary Candidate (PC), Alhaji Manaf Mohammed Osumanu, on Saturday, September 5, 2020, embarked on a house to house campaign in the Constituency.
The Campaign that started from his campaign office at Mamobi took the parliamentary hopeful to areas such as Alidu Mosque, Achimota Station, the Mamobi market and its surroundings within Mamobi West.
The House to House campaign has among other things the objectives to explain his campaign strategies and plans for the constituency to the people.
In his interaction with the constituents, Alhaji Manaf assured them that he has better policies and plans in place for them if given the nod to represent them at the legislature, come 2021.
He also explained the good policies and achievements of President Akufo-Addo to the people. He mentioned among other things Free SHS, NABCO, 1D1F, Ambulance distribution, planting for foods and jobs, infrastructure developments.
Alhaji Manaf Mohammed Osumanu appealed to the people to vote for the NPP in both the Presidential and parliamentary elections respectively come December 7, 2020.
The PC expressed his satisfaction on how he and his team were received during the tour. He described the people's reactions as marvellous and was hopeful that his message has been well received and accepted.
He advised the people to conduct their electioneering campaigns peacefully regardless of what party one is affiliated to.
We are one people with the same destiny and we don't have to fight each other because of politics. Politics will come and go but we shall remain relatives and friends forever, Alhaji Manaf emphasised.
The constituents were seen interacting with the Parliamentary Aspirant cheerfully. They assured him of victory in the forthcoming elections.
Accompanying the PC during the tour were the Constituency executives, NPP Loyal and Action Ladies and other party volunteer groups.
Alhaji Manaf will continue the door to door campaign for victory in the 2020 election.