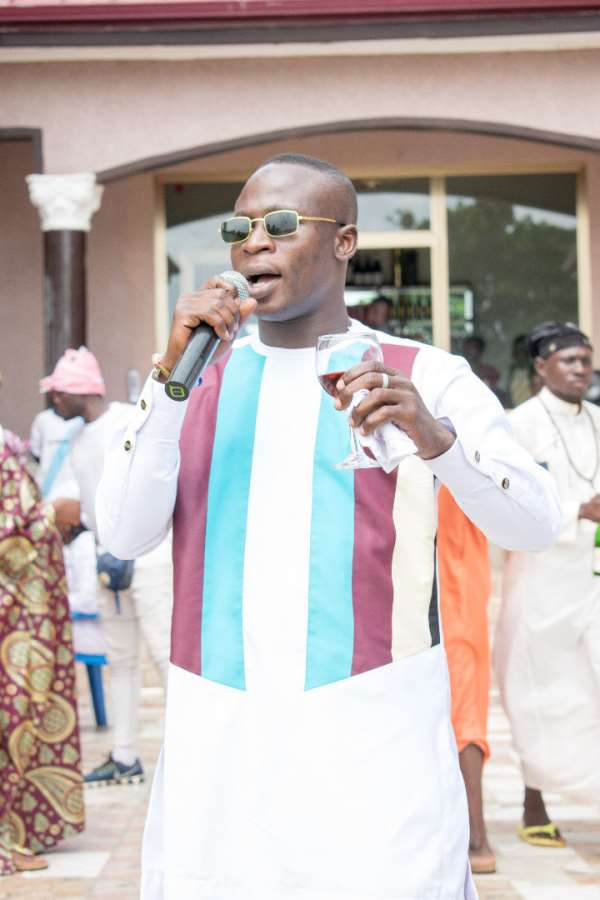 NPP DEPUTY OTI REGIONAL YOUTH ORGANIZER, CHALLENGE MP FOR KRACHI WEST, HON. HELLEN ADJOA NTOSO OVER HER CLAIMS THAT "THE CONSTRUCTION OF KETE-KRACHI TOWN ROADS WAS GIVEN ON CONTRACT BY THE NDC"
I have received with utter dismay, comments attributed to the MP for Krachi West,
Hon. Hellen Adjoa Ntoso to the effect that the construction of Kete-Krachi Town Roads was given on contract by the erstwhile NDC government in 2015.
Hon Hellen Adjoa Ntoso aka "Madam Do Little" initially made this revelation on Nyewaase FM an NDC Radio station based in Kete-Krachi, of which I spent some time to offer her Free Education on my previous article titled "HON HELLEN ADJOA NTOSO LIED, THE NPP NEVER CANCELLED NOR REVIEWED KETE-KRACHI TOWN ROADS CONTRACT".
Read More: NPP Fires Krachi MP Over Kete-Krachi Town Road Contract
She has since been repeating same on several media platforms she grants an interview to, an example is on the d-day of the sod cutting of the Kete-Krachi town roads, she was on GBC Kaakye Fm a state-owned Radio station spewing propaganda and lies to steal the glory and shine from the unprecedented lobbying done by Justice Amankwa Mensah aka JAM 1, NPP Krachi West Parliamentary candidate.
Moreover, there is a video going viral of her in parliament asking the Roads minister Hon. Amoako Atta on the floor of parliament on the state of Kete-Krachi town roads, so she wants to steal the glory with the mere asking of question which is the main reason she represents the good people of Krachi West in parliament, she even said the minister told her the Kete-Krachi town roads was not captured in the 2020 budget and that unless 2021.
But little did she knows that it was captured as critical roads in the budget for the onward allocation by the Oti Regional Coordinating Council (ORCC).
This development has justifiably created a lot of fears and panic among the good people of Krachi West; many of whom have vowed to vote her outcome December 7th for such an unpardonable gaffe of not being able to construct the Kete-Krachi town roads when she was the former Volta Regional minister and a close confidante of the former President John Mahama.
I, therefore, deem it expedient to come clear the air on the matter and put the facts in proper perspectives.
In setting the records straight,
I wish to begin by stating unequivocally that the claims by Hon Hellen Adjoa Ntoso are factually incorrect, spurious, and as such should be disregarded by all.
I am DARING hon. Hellen to make public the said budget statement she claims captured the asphalting of 10Km and surface dressing of 5km Kete-Krachi town roads?
If Hon. Hellen fails to produce that budget which she claims received the endorsement of parliament then she should not only desist from making such claims but should also retract and render an unqualified apology to the good people of Krachi West for this unwarranted disservice and shall advise themselves accordingly.
If Hon. Hellen thought the kitchen is too hot for her, she should get out.
And if she intends to withdraw from contesting, then she should gather the necessary courage to make that point loud and clear rather than this cowardly approach of trying to fuel her relevance as a coverup for her unpopular move and non-developments.
It is very much obvious that "Madam Do Little" is afraid of the consequences and political ramifications of such move hence the decision to play a smart one at all of us.
For the avoidance of doubt,
I wish to once again state emphatically that the NDC never gave the asphalting of Kete-Krachi town roads to any contractor.
In fact, I am still yet to see the contract documents, awarding of contract is not by word of mouth.
For the records, the current contract given to First Sky Constructions is on the 4th September 2020 has the following,
Source of funding as Road Fund(GOG), not under cocoa roads funding as Yaanom wants us to believe.
10Km asphalt and 5km surface dressing, not Sapetti as Yaanom are alluding to.
The 2019 budget captured it as part of the critical roads to be constructed in Oti Region and wasn't captured in any budget under the NDC.
I, therefore, find it disingenuous that Hon. Hellen continuously makes reference to this non-existing claims that nobody but herself has known.
Why hasn't the said budget statement and contract documents been issued to the media as source of evidence Obviously, a budget statement cannot be a secret document and I demand to see it NOW and NOW. Enough of this political gymnastics, communist inferior tactics and merry go round hon.
I wish to conclude by reiterating my long-standing impregnable position in respect of this matter that I shall vehemently RESIST any attempt by the NDC Krachi West to deceive the unsuspecting voter.
The good people of Krachi West are wide awake and discerning, and won't allow themselves to be bamboozled.
Hon. Hukash Muntari
0547302234
NPP Deputy Oti Regional Youth Organizer/Assembly Member Soldier Camp Electoral Area.