Dozens of armed men marched into a provincial DR Congo capital on Friday to demand the release of jailed fighters but authorities identified them as members of a peace-seeking faction and calmly evicted them.
Armed with rockets, AK-47 assault rifles and machetes, the men gathered in the centre of Bunia, capital of northeastern Ituri province, but were then bundled into three cars and driven out of the city, an AFP journalist said.
There was no exchange of fire.
Several militia and rebel groups have been staging attacks in the region but this was the first time in recent years that they had entered a major city in the Great Lakes area bordering Uganda, Rwanda and Burundi.
Officials said the region's security forces managed to defuse the rage of residents who were shocked at the bold move and wanted to set upon the armed men whom they blamed for atrocities in the region over the last three years.
"We have suffered no losses in human lives, nor any property damage," Ituri's deputy governor Martin Shalo told journalists later, expressing pride over how the incident was handled.
But the United Nations's DR Congo mission MONUSCO said it had put its troops in Bunia on "maximum alert" on Friday.
The region's governor Jean Bamanisa told AFP earlier that the men had gathered outside the central prison to demand the release of their jailed peers but his aides said none had been freed.
Want to 'end hostilities'
Some local sources said the men had actually come to give themselves up.
The armed men triggered people's fear and anger because they were identified as members of the Cooperative for the Development of Congo (CODECO), an armed group accused of ethnic attacks.
Since December 2017, violence in Ituri has claimed nearly 1,000 lives and displaced half a million people, according to an International Crisis Group report in July.
The violence escalated after the army launched a crackdown on armed groups in October.
But Governor Bamanisa said the men were from a CODECO faction which "unilaterally wants to end hostilities."
The national army and Basa Zukpa, a CODECO spokesman, said last month that the militia had agreed to President Felix Tshisekedi's appeal for a ceasefire.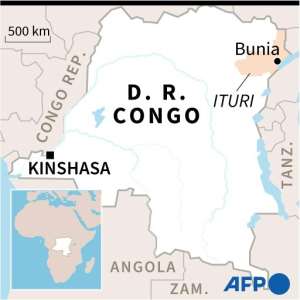 Map of DR Congo locating Bunia in Ituri province. By Valentina BRESCHI (AFP)
CODECO is drawn from the Lendu ethnic group, a predominantly farming community which has historically clashed with the Hema, a group of traders and herders.
The two communities were embroiled in a bloody conflict between 1999 and 2003 which led to the European Union's first foreign military mission, the short-term Operation Artemis.
Bamanisa spoke to AFP from the capital Kinshasa, where he met the prime minister a few days earlier to discuss the instability in his province.
Ituri politician Gracien de Saint-Nicolas wrote a letter to the governor and military authorities complaining they were not doing enough to promote peace.
"We will not allow blood to be spilt in Bunia. The CODECO is Congolese and ready to give up arms but you are not facilitating the task for them to be reintegrated into the peace process," the politician wrote.
UN human rights chief Michelle Bachelet visited Ituri in January and denounced what she called "crimes against humanity" there.