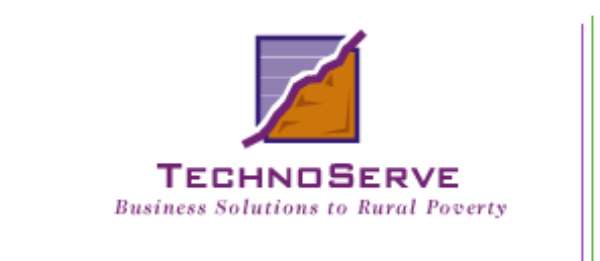 No matter your background or education level, if you have a good idea, the drive to make it a success, and are willing to put in the work, you will be able to go far in the Believe Begin Become Business Plan Competition.
This is the view of David Milestone, a Volunteer Consultant with TechnoServe, facilitators of the competition. Milestone is involved with TechnoServe for 10 weeks. He is currently in graduate school working on a dual-degree in Business and Public Administration at Northwestern University's Kellogg School of Management and Harvard University's Kennedy School of Government.
The first African version of the Business Plan Competition was introduced in Ghana early this year. "I spent the first six weeks in Ghana documenting and refining best practices in the running of a national business plan competition in Africa. At the same time, I began to put together an operations manual summarising all of the activities and phases that make up the competition," explained Milestone.
His role in Swaziland is to share some of the lessons learned from the Ghana event with the Swazi team. He also came to Swaziland both to add to and refine the operations manual. Milestone said the final manual based on the Ghana and Swazi input would then be used to aid in the expansion of the BPC programme, as more competitions are rolled-out throughout Africa.
Believe Begin Become in Ghana is in its final stage. It has been considered a great success with over 300 applicants from every region in Ghana with a wide range of business ideas. Milestone said, "It was also exciting to sit in on the training sessions where 60 participants went through an intensive programme where they were able to ask industry experts great questions that would directly impact their businesses. I was both impressed with the quality of instructors and the students."
Many of the finalists in Ghana took full advantage of the training programme not only making their current business plans better, but preparing them well for a future in business or entrepreneurship. According to Milestone, the most successful applicants in Ghana had generally done more research into their industry, market, competition, etc.
The Volunteer Consultant advised that it is better not to start a bad idea. Instead, he emphasised that it is important to do extensive and complete research relating to your business concepts to better evaluate its potential.
Milestone has also witnessed the inaugural Believe Begin Become application process in Swaziland. "The excitement and response here has been tremendous with over 200 applicants received. An impressive number, especially considering that Swaziland has a much smaller population than Ghana. I think it speaks to the true entrepreneurial spirit that Swazis can show," he asserted.
TechnoServe has completed the screening of the applications. Eligible participants will be notified through mail or telephone and invited to a two-day seminar. The seminar will be divided into two components with the first day being a mini conference where notable speakers from the business community will share their experience with the participants.
Topics to be covered will include amongst others; 'The Role & Value of Entrepreneurs', 'Every Entrepreneur Starts Small' and 'Getting Started as Entrepreneur.' The second day of the Seminar will cover a session on Business Planning', 'Becoming Investment Worthy' and Legal Requirements of Starting a Business in Swaziland'.
Milestone's friendly advice for these applicants is: "One of the most valuable aspects of this programme is the opportunity to develop contacts among fellow participants, trainers, consultants, etc. So even if you're not fortunate enough to become a finalist, you should take full advantage of the opportunities to interact and ask questions of your colleagues and industry experts associated with the programme."