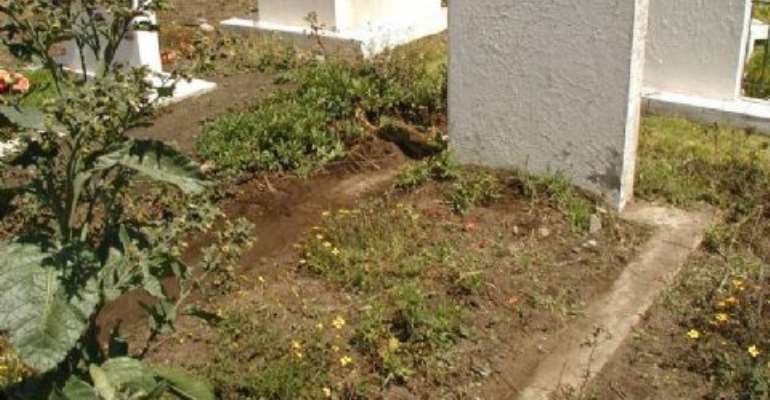 The Network Herald newspaper has stumbled upon mass desecration of graves as under siege drug barons device new strategies to outwit security and detection. The most recent desecration has been recorded at Mile Eleven Cemetery on the Accra Winneba road and use of the general area around the cemetery as a hide out for repackaging and branding of cocaine and heroine.
According to residents, the barons organize the digging out of old graves for aged bones which they grind into powder and smear on packages for export. The development apparently became the norm when it was discovered that it could outwit sniffer dogs.
Very reliable sources informed newsmen that the barons might have aggregated around that area to gain easy access to the graves. They said for some time now, all kinds of illegal structure had been erected within the cemetery area in spite of health implications.
A visit to the cemetery revealed an unbelievable spectacle of human parts littering the place. A leading member of the Bortianor royal house who also pleaded anonymity for what he termed "fear of his life,' said he had personally pleaded with several institutions like the Environmental Protection Agency, Ministries of Health, Local Government, Interior and the District Assembly of Amassaman as well as officials of the Accra Metropolitan Assembly for attention for the affected area.
He lamented that his efforts had led to naught even though the Director General of the Ghana Health Service, Profession Agyeman Badu Akosa, could not imagine the affronts of the Ghanaian to challenge the law and do the unimaginable, like erecting residential dwellings in a cemetery.