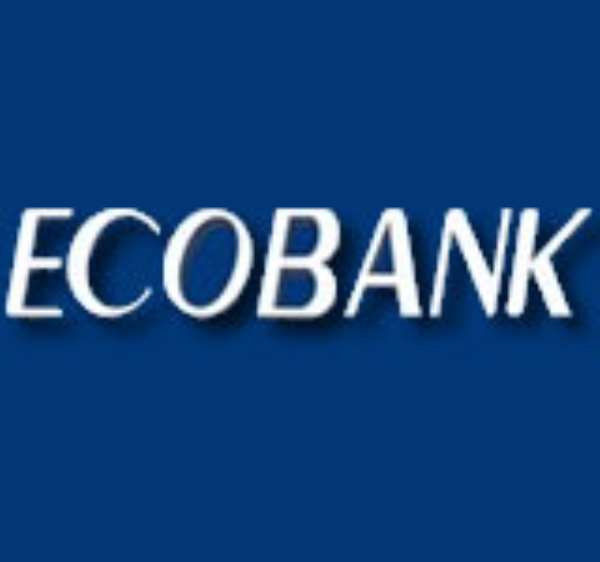 The Ecobank Transnational Incorporated (ETI) started initial trading on the floor of the Ghana Stock Exchange GSE today, 11th September 2006, in Accra with opening price of ¢22,350.00 per share.

Through this exercise, ETI took the market capitalization of the Exchange across the ¢100,000 billion mark and has issued 611,003,548 shares to 2,600 individuals and institutional shareholders spread across West Africa and beyond.
At the end of August, 2006, ETI had a balance sheet of about US$3 billion.
The Managing Director of GSE, Mr. A.Y. Yamoah, acclaiming the celebration noted that it was the first time in Africa that a programme of that kind had been simultaneously held on three stock exchanges in West Africa.
These are the Nigeria Stock Exchange - Lagos, the Ghana Stock Exchange -Accra and the B.R.V.M - Abijan.
He advised the management of ETI to be transparent to the investors so that they would benefit richly from their investments.
The Director of ETI, Mr. Michael Ashong, expressed gratitude to the pioneers who conceived and created ECOBANK as a vehicle not only for promoting regional integration but also for encouraging African Private Sector Development.
According to Mr. Ashong, ETI operates in over 200 branches in 13 Anglophone, Francophone and Lusophone countries with 3,500 employees from over 15 nationalities.
These countries are Benin, Burkina Faso, Cameroon, Cape Verde, Cote d'Ivoire, Mali, Nigeria, Niger, Senegal, Togo, Ghana and Guinea.