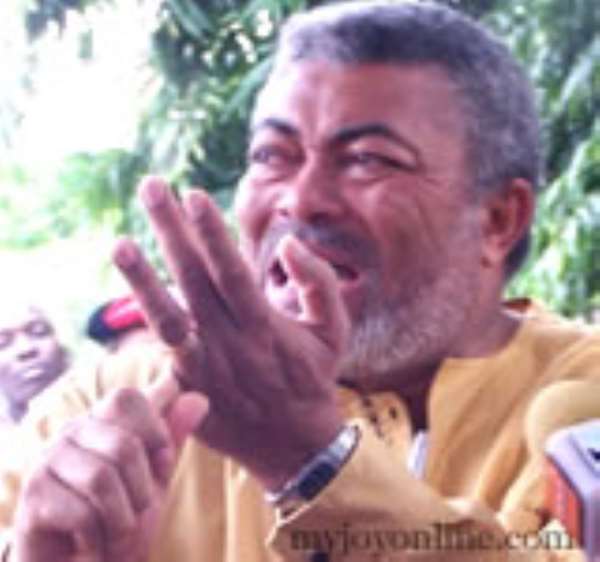 ..If Mills Ticket Fizzles
...Cold War With Jerry Rawlings
They would have been racing past each other in traffic or 'wobbling' past each other at National Executive Council sessions and strategic campaign meetings at Kuku Hill, Evans Atta Mills' campaign office. Or, at other functions like the June 4 anniversary celebrations, with one stealing occasional glances at the other, and at the several other party functions that demanded their presence.
But National Democratic Congress moderates and insiders say Jerry Rawlings and Kofi Totobi Quakyi, have not met eyeball-to-eyeball for several years now. Not a Hi or Hello or even an 'NDC! Ehe Edzo Bodoo from 'boy' to 'master', or 'master' to 'boy'. Victor Smith, Special Aide to former President Jerry Rawlings denied any existing cold war on the part of his boss with his former National Security Minister, saying "I do not know that for a fact. However, other insiders say the two have since the late 90s not gotten on very well but tolerated each other for the 'common' cause.
Now the common cause seem precariously hinged on Prof. Mills being voted again as the NDC flagbearer, as far as Totobi Quakyi cares to know. The two men's relationship has been purely on need-to-see basis in the last four to five years. As far back ass the electioneering campaign of 1996, the two men were up to some 'cat and mouse' games. Jerry Rawlings, according to one account, had Totobi summoned before him on the matter on a couple of occasions; with threats of dumping him, if he refused to fall in line and joined the campaign circus to openly lambaste the New Patriotic Party. "Moko nyee etsu eha bo ni oye", (No one will work for you to enjoy), he had consistently warned Totobi, according to our sources.
Though Totobi ' repented' and presently began attending NDC rallies and later, Wahala marches, perhaps more in solidarity with Mills than the Rawlings NDC machine, the former Head of National Security and Minister of Information, was 'still cautious about joining the band of loud propagandists," preferring instead of 'plot' in the background. The Statesman was hinted that it is only his special relationship with Prof. Mills that keeps him moving along with the party. He is, however, "most likely to quietly quit, if the Mills ticket collapses", using his failing health as a legitimate excuse. However, those in the Mills camp who think the old force pilot is for gagging better thank again.
Former President Rawlings last week broke a long period of silence and warned that he is not one to be gagged. They had hoped that the new guidelines, which prevent party executives, including the founder from openly declaring for one candidate or the other in the flagbearer race, would ensure Mr. Rawlings and others would not ruffle feathers.
Rawlings, according to Daily Graphic September 9 , 2006 edition stated that "he would always make comments, ask questions and contribute to the advancement of democracy". "I hear some people urging me to keep quiet. Who can gag me?" Rawlings queried, in apparent reference to his alleged meddling in the choice of flagbearer for the NDC. Mr. Rawlings ha also taken members of his party to task for not doing enough to "check the rate of lawlessness and mismanagement in the country." The former President also lamented what he described as the "rate of timidity" among the people particularly members of his own party to point out "the ills being visited on the people of Ghana."