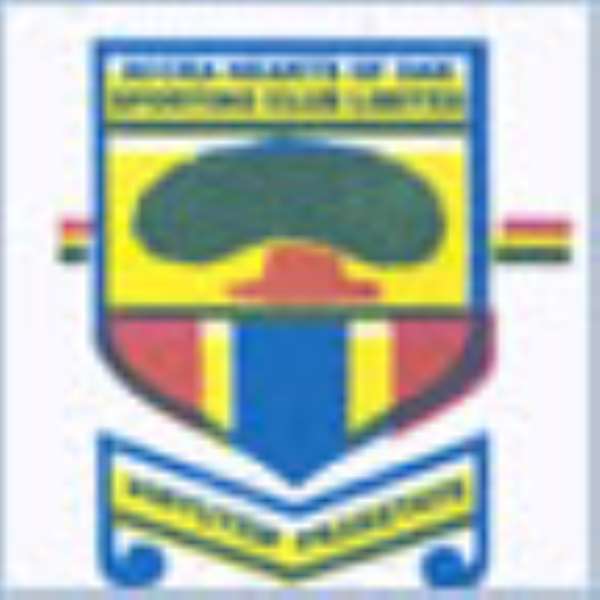 Three Accra Hearts of Oak players have been suspended indefinitely by the club's management for various acts of indiscipline with two others forfeiting a week's salary.
Players on suspension are goalkeeper Laud Quartey, full-back Micheal Donkor and striker Ekow Ghansah are the three players.
Midfielders Joe Tagoe and Robert Aryee forfeit a weeks salary.
A club release stated that management had taken that decision to curb the alarming rate of indiscipline with the playing body.
According to the club's statement, Quartey and Donkor were found to have made contacts through text messages and telephone calls with the Chief Executive Officer of a rival club during which they dented the corporate image of the Club.
According to the statement, the duo in the text message as well as the telephone calls sought to remind the rival club of an impending league match against Hearts with the intention of arranging a selfish portion that would undermine the Club's progress.
The statement further said the defence of the players before the management after thorough investigation was proved porous.
For Ghansah, he is said to have missed training sessions without any justification.
The striker is said to have been cautioned for a similar offence earlier in the year after collecting some financial benefits.
Midfielders Joe Tagoe and Robert Aryee are also to forfeit a week's salary for breaching Article 2 and 3 of the Rules and Regulations of the club which requires them to attend all training sessions at any reasonable place in accordance with instructions given by the authorised official of the club.
Accra Hearts of Oak has also cautioned their general captain, Yaw Amankwah Mireku for persistently adopting a defiant position regarding the club's stand on granting media interviews without permission.
It said "As General Captain, he should know that his action was in breach of the contract signed between him and the Club. It warned that he would severely dealt with for any repetition."