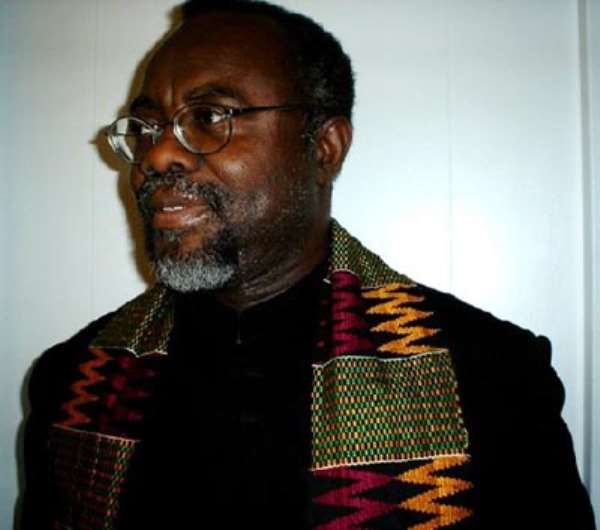 The analogy by the Executive-Director of the Center for Integrated Social Development (ISODEC), Dr. Steve Manteaw, which has both the ruling New Patriotic Party (NPP) and the main opposition National Democratic Congress (NDC) being similarly described as an "armed robber" and a "thief," tells us, the readers and the audience, more about the identity and personality profile of Dr. Manteaw than it tells us about either of our two major political parties, in particular the Akufo-Addo-led government of the New Patriotic Party which has, so far, demonstrated and continues to demonstrate that it is the most visionary, progressive and development-oriented political party and government in postcolonial Ghanaian history (See "2020 Election Is Between an Armed Robber and a Thief – Steve Manteaw" Ghanaweb.com 9/2/20).
The warped analogy of the critic tells us about the fact that the ISODEC boss clearly lacks viable critical- and creative-thinking skills. It is, no doubt, the analogy of an irredeemable pathological cynic who is also so narcissistic that Dr. Manteaw appears to only see himself as the moral yardstick by which to measure the political significance of our two major political parties. You see, any Ghanaian social scientist, economist, development theorist or public intellectual who supposes the New Patriotic Party to be the mirror-image of the National Democratic Congress, and vice-versa, must be living in a Fool's Paradise. And some charitable somebody had better step up to the metaphorical plate, in American baseball parlance, by boldly and frankly telling Dr. Manteaw that not only is the critic living in a Fool's Paradise, he is also enjoying every bit of it in ways that point to his dire and immediate need for psychiatric examination.
The man clearly lacks a practical touch with the reality on the ground, if he actually believes that there are any perfect humans doing politics anywhere in the world. You see, we do not elect angels and saints anywhere in the world to run our ships or machineries of state. We only hope that the men and women whom we put in charge of our governance apparatus are the best and brightest that out particular society is capable of producing. And so far, it is well beyond dispute that in the leadership of the Akufo-Addo-led government of the New Patriotic Party, Ghana has the very cream of the crop. One only has to appraise the development projects, policy initiatives and the quality of life under the leadership of the present government to arrive at the definitive conclusion that under Nana Addo Dankwa Akufo-Addo, Ghana has unquestionably reached the foothold of its Apogee or Golden Age.
There is still a lot of work to be done, no question about that. But it is also indisputable that at no time in Ghana's history and within the same short space of time has any government performed better than the Akufo-Addo-led government of the New Patriotic Party. After all, why do you think Nigerians resident in Ghana, some of whom have come into conflict with the rule of law, are desperately fighting to be allowed to live and ply their trade in our country? Dr. Manteaw may not know this, but bitter complaints of economic hardships and all, Ghanaians generally have the best and most qualitative lifestyle in the entire West-African Subregion. Even under the COVID-19 Pandemic, Ghana's economy has been growing faster than that of virtually all her neighbors in the ECOWAS ZONE. Ghana also has the highest literacy rate in the ECOWAS Subregion, at 80-percent, followed by Nigeria at a distant 60-percent. I have rounded out these figures for ratiocinative felicity; but they are, nevertheless, an accurate representation of the prevailing conditions. That is why many wealthy Nigerian parents have been sending their children to school in Ghana, not because the Government of Ghana is so strapped for cash as to invite our Nigerian brothers and sisters over to scam them with exorbitant tuition fees.
Which is also why I am often amused in no mean measure, when I hear some blowhard petty Nigerian NDC-trucking entrepreneurs like Mr. Momodu, I don't remember his full name, haughtily grandstanding about the supposedly indispensable Nigerian investment properties and businesses in Ghana. You see, the global recognition of Nollywood, Nigeria's impressive film industry and all, the economic development of West Africa's most populous country and largest economy is in deep trouble, when that country has a literacy rate that is barely above the 60-percentile notch or mark. Then also, with a life-expectancy rate well below that of Ghana's, fly-by-night Nigerian entrepreneurs like Mr. Momodu, who have been using the political scam-artists of the National Democratic Congress to corrupt and railroad the development of Ghana, would be better off going back to their homeland to doggedly pursue charitable projects aimed at the betterment of their own kinsmen and stop interfering in our governance and internal affairs.
There are good Nigerians resident in Ghana, let no one make any mistake about that. But by and large, these good Nigerians are few and far between. And we will never allow the Momodus to criminally reduce Ghana to another out-of-control Nigeria. You see, most Nigerians with businesses in Ghana are not performing charitable NGO work, they are raking in humongous profits that most of them could not make in Europe and the United States, for some ready examples. We need to tell it like it is! You see, I even have brilliant and responsible Nigerian friends who are like my brothers and sisters who often tell me that they would rather not have any "crooked Nigerians" living in the same communities and neighborhoods with them. The problem is far more serious and complicated than the sort of nonsensical bluster coming from Aso Rock to Jubilee House these days.
*Visit my blog at: KwameOkoampaAhoofeJr
By Kwame Okoampa-Ahoofe, Jr., PhD
English Department, SUNY-Nassau
Garden City, New York
September 2, 2020
E-mail: [email protected]