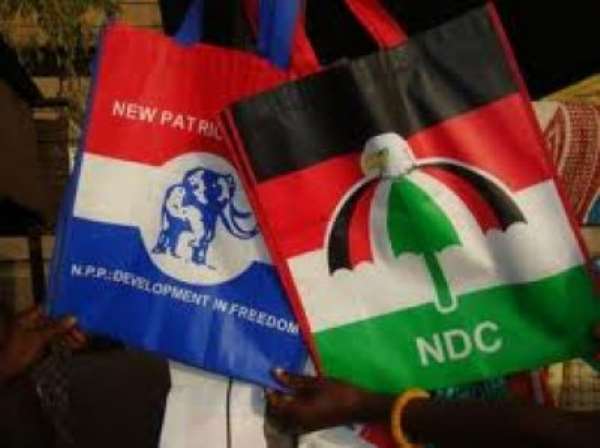 It is undeniably true, the Ghanaian public perceptions about the two major political parties in Ghana. Some see the NPP government under His Excellency the President, Nana Addo Dankwa Akufo-Addo, as a "Friends and Family Government" while seeing the NDC governments under the late President Professor Atta Mills and former President John Mahama as the "Create, Loot and Share Governments"
Be that as it may, which of these two political parties or governments do, or should, Ghanaians, prefer to rule them come the 7 December 2020 general election?
A bit of narrative facts could help spark off our decider analytical thinking to be able to weigh and choose between these two political parties or governments.
The President Akufo-Addo's NPP government, although apparently a "Friends and Family Government", going correctly or erroneously by the statistics of the similarities of his appointees' names and relationships, has some very credible qualities that need to be considered.
The man Akufo-Addo per se is honest, incorruptible, visionary, dynamic, dedicated and not capricious. He has proven himself to be at the service of his nation and people. He values and pursues policies and programmes that are in the best collective interests of Ghanaians. There are many admirable positive attributes about the person, Akufo-Addo.
He believes in Ghana being able and capable of extricating herself from the tight suffocating economic grips by our contemporary advanced countries. Subsequently, he has suggested, and is seriously implementing, policies and programmes, aimed at achieving his goals to setting Ghana free forever from international denigration, internationally-driven economic strangulation, self-inflicted humiliation and slavery, and all the negative attributes assigned not only to the African but the black person.
A country with almost all her citizens educated, thus acquired formal education, stands a better chance of succeeding socio-politico-economically to bring prosperity to both the nation and the citizens. This is the more reason why President Akufo-Addo has implemented the free Senior High School education with further plans to make tertiary education more affordable to every person in Ghana irrespective of their poor or rich family backgrounds.
The cliché "A soldier walks on his stomach" or "A hungry man is an angry man" has informed the opinion of the man Akufo-Addo, to implement the programme of "Planting for Food and Jobs". This policy has proven to have the potency to making Ghana not only self-sufficient in her food needs but also, to export food to other countries to obtain hard foreign currency for the development of her other essential projects that are tailored towards making Ghana great and the people prosperous.
The NPP government under Nana Akufo-Addo has embarked on a number of projects that are ultimately aimed at waning Ghana off her dependency on foreign aid for survival, thus, the vision of "Ghana Beyond Aid". Look at the "One District One Factory, One Village One Dam" et all, not just envisioned but are being implemented to industrialise Ghana to add value to our raw materials before exporting them to earn Ghana more foreign currency.
Up until this point and beyond, I have at the back of my mind the strong belief that his government abounds in friends and family. However, should we so negatively weigh this fact against him and his government even if they are implementing credible policies and programmes to enhance the image of Ghana and better the living standards of the ordinary citizens? My answer will be a BIG NO, if my opinion were sought.
He knows the adverse or devastating effects of the surface mining otherwise called galamsey, on the nation's water bodies, forests, arable fertile lands and air. He took measures to mitigate the effects only to be thwarted by the short-sightedness of former President John Dramani Mahama, the 'Ede bii keke" philosopher.
He has taken measures to weed out the rogue Ponzi scheme microfinance institutions and banks only for John Mahama to declare that he will resurrect them if elected as president in the December 2020 general elections. While Nana Akufo-Addo is playing sensible, well thought-out, farsighted and mature politics, John Mahama on the other hand is playing immature, populist and jumpy-jumpy politics of "I shall review this, I shall legalise that, and I shall bring back this or that"
On the "Create, Loot and Share Government" led by John Mahama, l have the following to say. The person, John Mahama, is absolutely visionless. Not only has he personally declared in his own authored book, " My Fist Coup D'état", of which l am yet to get a copy to read, that he is callous hence his utterances of "Yentie obiaa" and "I suffer from the dead goat syndrome" - a dead goat does not fear knife.
John Mahama's government since that of the late Professor Atta Mills' was noted for awarding perceived arranged judgment debt payments to people and companies in what was viewed by the Ghana Supreme Court as the government intentionally creating, looting and sharing the money.
Again, the contractual costs of many of the projects, if not all, that were executed by the Mahama NDC government were bloated. This was clearly done in pursuant of their "create, loot and share" agenda. Look at the SADA and the Isofoton issues among many others that were supervised by then President Mahama. Planting trees in the northern regions of Ghana in the peak of the dry season. Was that not total madness in exhibition, although it was for realising their "create, loot and share" objective?
Look at how he gave about GHS33 million to a company only for the nation to wake up the next day to be told the money was diverted into rearing Guinea fowls but only for the fowls to fly to Burkina Faso to return to Ghana no more.
How many times has the younger half-brother of John Mahama not taken hefty bank loans without ever honouring the terms of payments as were agreed? His failures to pay back loans he took from the Merchant Bank and the UT Bank might have immensely contributed to both banks becoming insolvent and collapsing in the end. Yet, this man is walking a free man, living in affluence and spending lavishly on women same as his elder brother, the alleged "Papa No", does.
He took either US$58 million or GHS58 million from the Merchant Bank and GHS302 million from the UT Bank, now consolidated with others into Ghana Consolidated Bank, but never paid a dime or a pesewa back.
Was he not the same guy issuing dud cheques for over two years in payment of his import duty taxes?
Under Mahama, official corruption ramified to an unprecedented level never observed in the political history of Ghana before. If it were not so, how could that young loquacious guy, Ofosu Kwakye, pay for his two houses in US dollars in cash to the property owner as alleged by former President John Jerry Rawlings? Ofosu Kwakye, now working for John Mahama, paid US$3 million cash for the two properties, one for himself and the other for his wife.
Mahama himself as a person, his family members, friends, cronies and some of his top party and government members engaged in open day corruption. The Brazil Embraer and Airbus aircrafts scandals all revolving around the name John Dramani Mahama tell how corrupt the individual, John Dramani Mahama, is.
What are the social interventions implemented by the Mahama NDC, directed at alleviating the effects of the harsh economic problems confronting Ghana and Africa? He has none. He has no long term policies and programmes aimed at improving the economic conditions of the ordinary people but his brigade of callous pen robbers.
He only pursues populist policies that inure Ghanaians to permanent hardships slightly mitigated through corruption and malfeasances surfaced at every level in the public and private sectors life of Ghana.
Ghanaians, as God in the bible placed before man the good and the bad, and gave us the free choice to choose between them but in the end there is judgment, so do l today, Wednesday, 2 September 2020, put before you the Akufo-Addo's "Friends and Family" and the Mahama's "Create, Loot and Share" governments for you to choose between them. In the end, you will yourselves be the judges.
Judging them by the Singaporean economic prosperity yardstick of Meritocracy, Pragmatism and Honesty (MPH), Nana Akufo-Addo fails on meritocracy going by the public perceptions of bloating his government with friends and family. But, were his friends and family offered their positions in government or public services based on being friends and family members in what Ghanaians derogatorily say, "whom you know", or based on their merit? Whatever the case, it is not right to have so many of one's friends and family members in most top positions in Ghana. Could they have been appointed into such positions because of trust or fear of avoidance of sabotage?
Could Mahama also not have failed on meritocracy when choosing his appointees who were not principally his friends and family members? Did he choose qualified persons who could do the job and do it honestly? Why then the superfluous corruption in his government with himself amassing illegal wealth?
On Pragmatism, the Akufo-Addo's government outpoints Mahama's. President Nana Akufo-Addo varies his policies and chooses what can work best for the nation hence his many implemented social interventions without strict adherence to the ideologies of NPP as capitalist oriented.
On Honesty, Nana Akufo-Addo far outperforms John Mahama. The evidence is out there in the public domain for any discerning Ghanaian to see and tell.
In order not to bore you any further, l invite Ghanaians to judge Nana Addo and John Mahama based on their competence, honesty, farsightedness, pragmatism, demonstrated service to their nation and people, personal corruptibility or incorruptibility, aversion to acts of criminalities and who indeed wants to take Ghana out of her poverty by their policies and programmes.
I shall be back. This publication is coming to you from the proud son of Kumawu and Asiampa, both in the Ashanti region.
Rockson Adofo
Wednesday, 2 September 2020