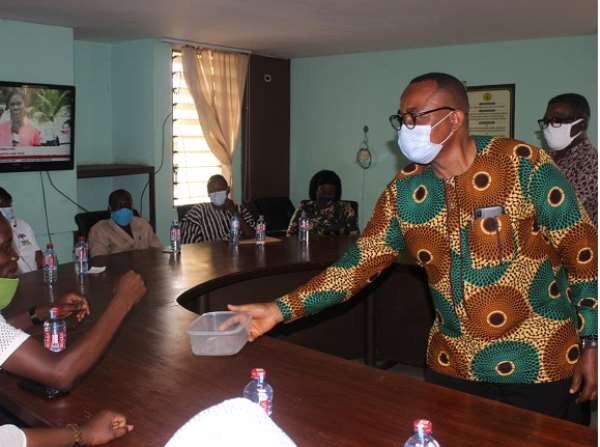 A political party representative taking his turn in the ballot
Some registered political parties have taken part in a ballot for the order of appearance on the Ghana Broadcasting Corporation (GBC) political programmes ahead of the December 7 elections.
The parties that participated in the exercise included the United Progressive Party (UPP), National Democratic Party (NDP), Democratic People's Party (DPP), Ghana Union Movement (GUM), United Front Party (UFP), All People's Congress (APC), New Patriotic Party (NPP), People's Action Party (PAP), National Democratic Congress (NDC), Liberal Party of Ghana (LPG), Ghana Freedom Party (GFP) and the Great Consolidated Popular Party (GCPP).
The UPP took the first free slot followed by the NDP, DPP, GUM, UFP, APC, NPP, PAP, NDC, LPG, GFP, IPM and GCPP.
After the exercise, the acting Director for television (TV), GBC, Ebenezer Ampaabeng, said the state media, according to its constitutional mandate of strengthening the democratic culture of the country, would be offering the various political parties the opportunity to appear on its programmes free of charge.
He said TV programmes like 'Manifesto Digest', 'My Turn', 'Adult Education', 'Breakfast Show', 'Inquest' and the 'Race to Jubilee House', would have dedicated time for representatives of political parties to share with Ghanaians what they have to offer should they be voted into power, come December 7.
"On the 'My Turn' programme, representatives of political parties will each week be given a 30-minute free airtime to tell Ghanaians the policies they have, and the 'Manifesto Watch' will have a host and representatives of political parties to discuss their manifestos," he explained.
He further noted that GBC's programmes held in the six local languages – Akan, Ewe, Dagbani, Ga, Nzema and Hausa – would also be made available for the use of political parties.
A few weeks ago, the GBC launched its strategy for providing equal coverage of political parties' activities leading to the 2020 elections.
The Chairperson of the GBC Political Broadcast Complaints and Monitoring Committee responsible for the smooth implementation of the policy, Dr Sarah Dsane, said the strategy is to give political parties and candidates fair and equitable opportunity to inform and educate the public on their programmes.
She said GBC would endeavour to provide an honest, accurate and fair reportage of political activities.
---Daily Guide