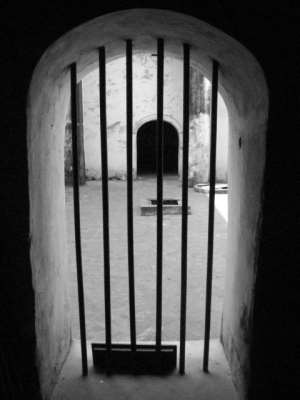 `Project Joseph' Government campaign hopes to attract more black visitors with tours that show how Africans aided European slavers.
Even in the dank and dim corners of Elmina Castle, behind whitewashed walls made of thick stone blocks, one can hear the angry sound of the ocean heaving waves against the shore.
For centuries, those waves brought slave merchants who carried off millions of people, packed tightly in rickety ships bound for the Americas.
Most of those who survived the perilous Atlantic crossing were condemned to lives of hard labour and humiliation.
As Ghana prepares for next year's 50th anniversary of gaining its independence — the first country in sub-Saharan colonial Africa to do so — it is launching a major tourism campaign aimed at blacks scattered across the globe by the slave trade.
"Project Joseph" is an invitation to blacks who trace their history to the slave trade to reconnect with the land of their ancestors. It's an invitation that comes with an apology — not from the Western countries usually associated with slave masters, but from Ghanaians themselves.
Says Emmanuel Hagan, director of research and statistics at Ghana's Ministry of Tourism and Diasporean Relations: "The reason we wanted to do some formal thing is that we want — even if it's just for the surface of it, for the cosmetic of it — to be seen to be saying, `Sorry to those who feel very strongly, and who we believe have distorted history, because they get the impression that it was people here who just took them and sold them.'
"It's something we have to look straight in the face and try to address because it exists. So, we will want to say something went wrong, people made mistakes, but we are sorry for whatever happened."
UNESCO, the United Nations' culture and education agency, estimates that 17 million people were forced to leave western Africa in wooden ships bound for the Americas.
Millions more died anonymously, far from home and without proper burial, during the brutal overland march to reach the slave trading forts like Elmina Castle, where blacks were kept shackled in dungeons, then branded with hot iron rods before being packed like "pieces of ebony" into waiting ships.
Most textbooks exploring the history of African slavery blame the trade squarely on Western colonial powers and the New World colonies that trafficked in human cargoes.
The fact that Africans sold their own people into slavery is mostly ignored.
But Ghana — a stable English-speaking country in conflict-ravaged, mostly francophone West Africa — has never shied away from it.
"Long before the coming of Europeans to the Guinea coast of Africa, our local people here themselves already had slavery in existence," says Philip Amoa-Mensah, a volunteer guide at the Elmina fortress, which was built in 1482 by Portuguese traders.
"Who a slave was and how they were treated could not be compared.
"To the Europeans, a slave would always be a slave and a slave is the absolute property of the master. He has no protection against the wickedness of the master and he is a tool to be used and discarded."
Guides like Amoa-Mensah deliver ministry-approved scripts describing the dense bush and jungle that ring the coastline, the various diseases that wiped out early slavers and their wives, the columns of hundreds of African men and women forcibly dragged into the forts, subdued by chains and whips.
They acknowledge it's unlikely the European slavers could have prospered without local help.
Ghana, with more than 50 monuments featuring relics of the slave trade, is considered a sort of mecca for blacks exploring their roots.
"We have something we call the healing, a program that we've dubbed the healing to take care of that aspect of the relationship because we cannot gloss over it," says Hagan.
"We just want to say sorry, let's back down, let's calm down on these things. Naturally, if you say sorry to somebody, no matter how hard the feeling is, once you say sorry, it mellows things."
Thousands of African-Americans visit the slave-trade fortresses each year, many of them coming during Black History month in February. Guides say they've seen all sorts of reactions, from utter devastation to rage to a kind of serenity.
American expatriate Toni Manieson says she felt almost nothing when she visited the ancient forts with a group of jazz musicians. Her most vivid memory is of how hot it was that day.
Like the people Project Joseph now hopes to attract, Manieson was a teacher and counsellor when she moved to Ghana with her husband nine years ago. She now runs her own business and employs 22 local people.
"I didn't really feel anything," Manieson says from the Accra jazz club she opened four years ago. "I went and I saw it and I recognized it as history."
Although she says she was never really into the idea of "return to Africa," she feels a spiritual connection with the country that she now calls home.
"I feel something here that I didn't feel in America," she says. "I wouldn't trade the experience for anything. I feel like I'm really living life."
She isn't sure whether how much her own history is linked with the slave trade but says her grandmother always dreamed of visiting Liberia — the republic set up by freed slaves from the United States.
Says Elmina guide Amoa-Mensah: "The history or the story is not told to open old wounds, nor is it told to magnify the strength of Africans, that they endured as people and yet survived.
"It is told for all of us to take humane and informed decisions so that collectively we correct the mistakes of the past, so that we contribute in own small ways to make the world a better place.
"I believe when we do that, we give a meaning to the tour."
Project Joseph expands the tour from the dungeons and "doors of no return" from which slaves were packed on ships. Tourists will also visit Ghana's northern region, where prospective slaves were captured, and the central region, where they were traded at huge outdoor markets.
The project's name is taken from the Old Testament story of Joseph, an Israelite who was sold into Egyptian slavery by his jealous brothers.
"Joseph was sold by his own brethren ... but eventually he prospered in the land of his own affliction," explains tourism official Hagan.
"He became prime minister in the pharaoh's government. He became very powerful and he went back and helped his own brethren who had cast him away.
"So, we're saying no matter what happened, the people should feel comfortable to come back to Africa and even help Africa to develop because they are better off than us."
"Ultimately, we also hope there are some who will come and invest — and even stay."