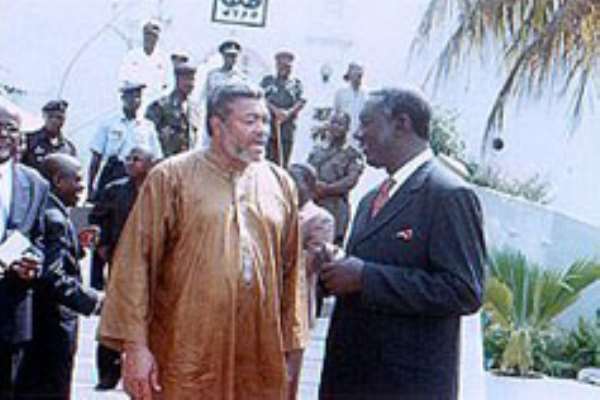 Against Gays and Lesbians
A renowned international evangelist has said that it would be a great joy to see H. E. President John Kufuor, ex-President Rawlings and the Vice President, Alhaji Aliu Mahama leading a massive demonstration against gays and lesbians.
Rev. Dr. Lawrence Tetteh, who made this assertion this week during a news conference held on the Golden Jubilee Crusade of the Presbyterian Church of Ghana (PCJ) to be held on March 6, 2007, called on all religious leaders and all those who oppose homosexuality in the country to come together to organise a peaceful national demonstration against the practice of "unacceptable cultures that are being borrowed from other Western communities and rather expose the public to a sound and healthy environment.
The international evangelist, who had held a spirit-filled crusade with the Presbyterian Church of Ghana at the weekend, posited, "We should clearly spell out the implications of these evil acts that perpetuate the spread of HIV/AIDS and STDs and gradually build an uncontrollable youth".
He added that "the fact that Ghana believes in the practice of democracy does not mean we should abuse our ability to import cultures that over the years have destroyed great leaders and individuals. He enjoined religions leaders, politicians and people in authority to act as role models to stop the evil menace such as drug abuse, homosexuality, and pornography, among others, that, according to him contribute to the negative effect on the community.