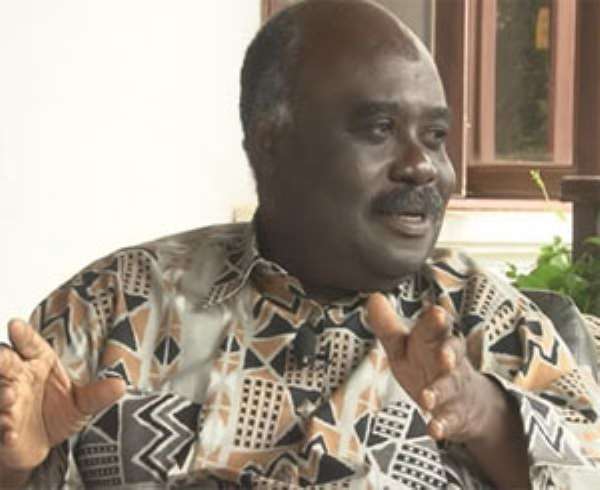 Dr. Charles Wereko-Brobby – the man cannot even spell his own name of "Brobbey," water-cocoyam, accurately – is the last Ghanaian citizen with any moral authority or credibility to caustically castigate President Addo Dankwa Akufo-Addo for facilely relenting in the battle against official corruption in the country, knowing, as we all do, that as the fired John Agyekum-Kufuor-appointed Chief Executive Officer of the Volta River Authority (VRA) – now, let's talk about nepotism – this sheepskin or paper/certificate engineer did absolutely nothing to improve on the quality of hydroelectricity supply in the country.
So, it is quite amusing that, today, the very same man who was dishonorably relieved of his post at the VRA by former President Agyekum-Kufuor, only to be mischievously afforded an even greater chance to wantonly scam the Ghanaian taxpayer, by being named as Co-Manager of the [email protected] Festivities, with his own uncle and extant Agyekum-Kufuor Chief-of-Staff, Mr. Kwadwo Mpiani, has the temerity to accuse President Akufo-Addo of being the "Ali Baba" of the Arabian Nights fabular infamy (See "Pray to God to be 'Agyapa' Not 'Alibaba' – Wereko-Brobby Jabs Akufo-Addo" Ghanaweb.com 8/31/20). I wrote several articles defending these crooks against the double-jeopardy attempt to have Messrs. Wereko-Brobby and Mpiani jailed by President John Evans Atta-Mills, late.
I am also not the least bit surprised that the Ghanaweb.com news portal operatives, who clearly appear to have been fully bought and paid for by the 2020 Mahama for President Campaign Team, would so unconscionably describe a thoroughly defeated inveterate detractor of Nana Akufo-Addo as "the first member of the ruling [New Patriotic Party] government to join a number of CSOs who have expressed dissatisfaction with the [Agyapa Royalties Investment] deal." Now, the real question for any critically thinking Ghanaian citizen to ask is the following: Precisely when did Dr. Wereko-Brobby become a bona fide member of the Akufo-Addo-led government of the New Patriotic Party?
I am also not aware that this perennially disgruntled self-proclaimed Akufo-Addo detractor has been offered any cabinet or sub-cabinet portfolio, although I am well aware of the fact that this professionally spent force and irredeemable political loser has been desperately scheming to be employed by Ghana's former Attorney-General and Minister of Justice. In the Social Media attack that the operatives of Ghanaweb.com decided to feature as their news portal's banner headline, and from which this column was composed, the man nicknamed Tarzan, from his much better political career days in the early 1990s, does not offer any cogent reasons and/or analysis of why he supposes the Agyapa Mineral Royalties Deal to be inexcusably corrupt. So, about the only logical conclusion that any critically thinking observer reaches is that an irredeemably defeated Tarzan had absolutely no better reason to gratuitously upbraid Nana Akufo-Addo, other than to hear himself and his name make the media headlines.
Let's be blunt here: Tarzan is a spent who lacks relevance and even the marginal capital of a political standup comedian or comic, as New Yorkers are wont to say. He is a morbidly self-inflated popinjay and a tragically burned out meteor. I have also admonished this desperado who has never mentioned the name of his own biological father and the influence that the latter may have had on his upbringing and life, if any, to simply and humbly zip up his oversized mouth and stop pretending as if he was classmates with Nana Addo Dankwa Akufo-Addo.
As for that marginal portion of the Ghanaweb.com writeup in which Tarzan vacuously jabs at President Akufo-Addo, which also has Candidate John "Airbus-Kanazoe" Mahama vowing to abrogate the Agyapa Deal and handing over all the mineral wealth and resources in the country over to his younger half-brother Mr. Ibrahim Mahama, the least said about this criminally unrivaled "Public Official Number One," the better. Suffice it, however, to inform Little Dramani that any thievish attempt to quixotically parcel out the mineral wealth of our beloved country to the Mahama Clan of Bole-Bamboi, in the Akufo-Addo created Savannah Region, will be fiercely resisted, even if this means resorting to an all-out war. Ghanaians have had enough of your entitled sense of thievishness, and we are prepared to permanently put a stop to such wanton acts of criminality, trust me.
*Visit my blog at: KwameOkoampaAhoofeJr
By Kwame Okoampa-Ahoofe, Jr., PhD
English Department, SUNY-Nassau
Garden City, New York
August 31, 2020
E-mail: [email protected]