The Minister for Environment, Science, Technology and Innovations, Prof Frimpong Boateng has denied allegations levelled against him by the NDC that, he and his Son Jojo Frimpong-Boateng illegally caused the arrest and detention of one Michael Kwadwo Peprah, President of concern small scale Miners,Ghana.
According to him, Michael Kwadwo Peprah made false allegations against him over some spoilt parked excavator which has been abandon since 2010 and claims it was one of the ceased machines by the Galamsey task force team.
Speaking to Kingdom News, Aide to Jojo Frimpong-Boateng noted that, Prof. Frimpong Boateng personally lodged a complaint with the Police concerning the allegations made against him by Michael Peprah which in turn the court ordered for the arrest of Kwadwo Peprah who is a leader of the Concerned Small Scale Miners Association because he failed to honour invitation from the Police.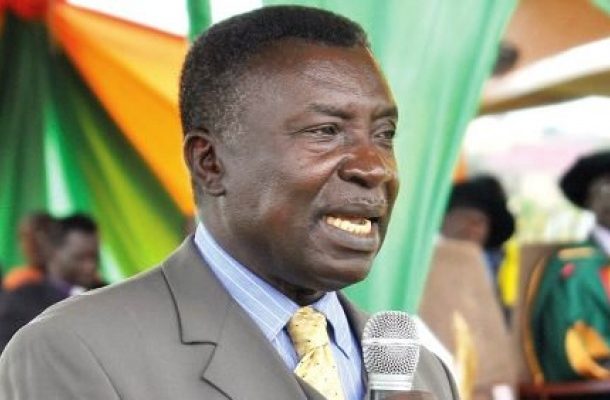 The NDC Communications Officer in a press statement accused the Honorable Minister of Environment, Science, Technology and Innovations and his son Jojo Frimpong-Boateng for causing the arrest of Mr Kwadwo Peprah who had a planned press conference to expose the government and the Minister over the excavator.
Michael Kwadwo Peprah was arrested in Ashanti Region by the police and was transported to the Greater Accra and has since been granted bail pending investigations and court proceedings.
But Prof Frimpong Boateng expressed worry and disappointment over claims from the NDC as he says he followed the due process of reporting a case to the police and the court ordered for the arrest of Mr Kwadwo Peprah due to his unavailability.
Son of Prof Frimpong Boateng, Jojo Frimpong- Boateng has also been accused of ordering for the continuous detention of Kwadwo Peprah.
The Aide to Jojo Frimpong- Boateng denied the claims made against him indicating that, Kwadwo Peprah is a very good friend of his, it was quite difficult to believe that Micheal Peprah was behind the said video. He said he decided to visit the police station just to be sure he is the same person claimed to have been arrested for peddling falsehood against his father but did not speak to the police about the continuous detention of Kwadwo Peprah.
What will be the motivation to influence continuous detention of Micheal Peprah? he quizzes.
He therefore dismisses claims and allegations against his father and himself saying it is mere propaganda targeted at himself and his father just to score cheap political points.
---kingdomfmonline.com