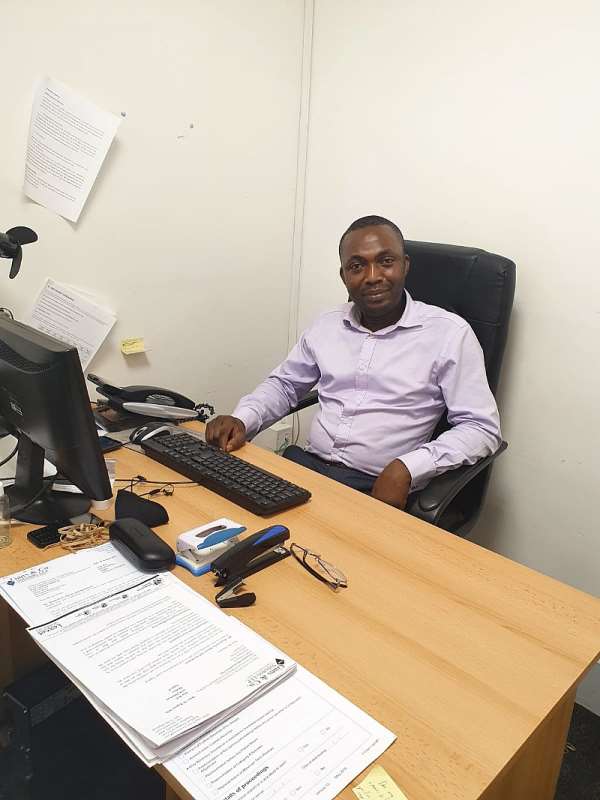 The talk on His Excellency Nana Addo Dankwa Akufo-Addo running away from debating former prez. John Dramani Mahama in this year's (2020) election has taken an interesting dimension as Ghanaians in foreign countries intrude on
According to 2017 Ghana Statistical report, Ghanaians abroad contributes about 7.4℅ of annual Gross Domestic Product (GDP) in Ghana's economy through remittances
A patriotic Ghanaian Lawyer who hails from Kintampo in the Bono East Region living in the United Kingdom Lawyer Kofi Badu has challenge prez Akufo Addo to boldly debate Fmr. Prez John Dramani Mahama(JDM) and prove him wrong on he has done and what he intends to do Ghana when given another four years as a president
Speaking with Kwadwo Ofosu Baffoe on a Techiman based ASTA FM Kokorokoo morning show which was monitored by Nana Kojo Atobra of RighteousTV, the Son of the Bono East Region who is domiciled in the United Kingdom- Lawyer Kofi Badu hintend that, Ghanaians abroad always have a strong stake in Elections outcomes due to the remittances they channel to their families.
"Ghana's Legal immigrant population in the United States of America is 149,96 and that of United Kingdom is 81,917, a lot of Ghanaians depends on remittances from their siblings abroad for their survival in their daily expenditure running from rent, education, health, food, and other many other pressing needs. " Lawyer Kofi Badu
According to him, Ghanaians abroad always coerce and lure their families to vote for a particular party based on their manifestos as to what has been done band to be done through the debate on their policies to be implemented when given power to rule
"Am however dumbfounded after hearing prez Nana Addo Dankwa Akuffo Addo resist a call by the Flagbearer of the National Democratic Congress (NDC) John Dramani Mahama for a debate to prove and set records straight as to which policital party has contributed immensely to Ghana's Infrastructure development" he hintend
Lawyer Kofi Badu stressed that prez Akufo Addo the leader of the New Patrotic Party is a disappointing personality indicating that he is rather placing doubts of competency in his turn in office as a sitting president adding that Prez Akufo Addo is rather brainwashing Ghanaians because he couldn't fulfill the promises made during the 2016 campaign
"Leading as a president with three and half years mandate why is His Excellency running away from this important debate of which we Ghanaians abroad will asked our families to vote for or against or is it a reason of his own bad shadow of governance appearing as the most inept, corrupt and nepotistic regime that Ghana has witnessed in the fourth republican constitutional rule as peddled by news portals as the talk in Ghana" he opined
According to Lawyer Kofi Badu , Ghanaian citizen in foreign lands wish to task His Excellency prez Akufo Addo that they need his presence on the between him and John Dramani Mahama to clarify the following issues labeled against his administration;
1.The fight against illegal mining popularly called Galamsey in local parlance.
2. The over 500 missing excavators that ended in the hands of your party faithfuls in the name of "party no hia no sika" (the party needs money)
3. The fight against corruption using Anas Aremeyao Anas Tiger Eye P.l. investigative method which is yet to see the light of the day.
4.The low production of cocoa since 2017.
5. The falling price of Cashew since 2017.
6.The Free SHS saga and issues arising from supplying of past questions to final year students instead of text books leading to massive exams malpractices and attacks on the presidents persona by aggrieved students.
7.Teacher trainees Quota on admission, licensure exams cum National Services brouhaha.
8.Nursing trainees Quota on admission, non-bonding of nurses, and National Service brouhaha.
9.The ongoing legalisation debate of tricycles/motorbikes a.k.a Pragya, Okada or Aboboyaa in local parlance for public transport.
10. One Million per constituency promise, One village one dam, One district one factory were some of the theories that made many Ghanaians Diaspora to support you in 2016 hence we need an update in a debate.
"His Excellency, we need this debate very badly to make an informed decision with our families in GHANA before we go for the ballot come December 7th,2020. Hope to hear favourably from your outfit." Thank you. He concludes it.
Signed:
Kofi Badu-Esq_United Kingdom.