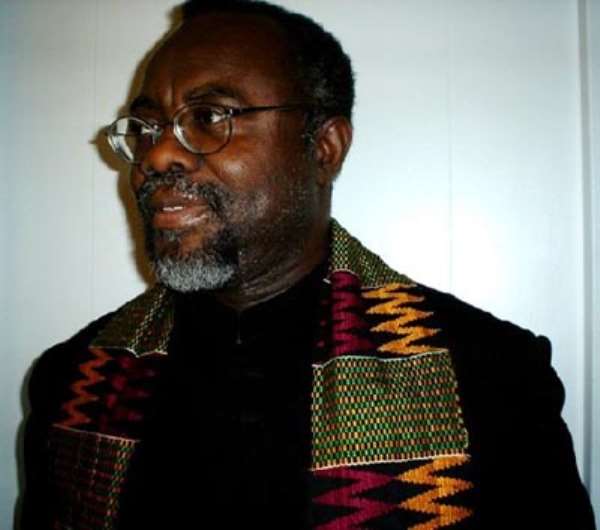 In graduate school, in the early 1990s – I actually began taking graduate courses as an undergraduate Ford Foundation Fellow/Scholar in the mid-1980s at City College of the City University of New York – as a student of global African Studies, with a specialty or concentration in literary studies, I happened to take a course in which my classmates and I were required to study the works of the Kenyan-born philosopher, thinker and theologian, Rev.-Prof. John Samuel Mbiti (1931-2019). Thirty years later, I don't remember much else other than Prof. Mbiti's rather revelatory and pontifical assertion that whereas European peoples and their cultures tended to reason progressively, albeit in lineal progression, most African peoples and our cultures tended to think in a manner that may be aptly termed as "backwardly" or "retroactively," albeit in a curvilineal/curvilinear manner.
At the time, I must confess that I was angrily taken aback. I was actually miffed and felt that Prof. Mbiti was making such an inexcusably unflattering observation and assertion because, as a privileged African married to a European white woman and blindly enjoying all the comforts that came with living in an advanced postindustrial Euro-Western civilization and culture, Prof. Mbiti had completely lost touch with the existential reality of the indigenous African World.
Well, now, some three decades on, it turns out that, indeed, Canon Mbiti was smack on top of what he was talking about, as clearly exemplified by the call by Ghana's Alliance of Civil Society Organizations (CSOs) to have the recent parliamentary approval of the Agyapa Equities and Royalties Deal promptly reversed, well after the fact, because, somehow, Dr. Steve Manteaw and his group of Allied Civil Society Organizations are convinced that the bold decision by the Akufo-Addo-led government of the New Patriotic Party (NPP) to trade royalty profits from Ghana's mineral resources on the London Stock Exchange (LSE), as well as the Ghana Stock Exchange (GSE), as a means of maximizing the profitability of our natural resources for the speedy and massive development of our country is, somehow, rash and wrongheaded.
On the positive side, the decision has been hailed by economic and business experts as one that is actually long overdue, visionary and commendable. We shall make time in the near future to further examine and comment on the Agyapa Deal, as this landmark compact has come to be known, in due course. For now, though, the focus of our discussion is on the fact of whether or not that in a bona fide constitutional democracy, such as is being currently and vigorously pursued in Ghana, that any citizen of goodwill and in good standing, civically speaking, and/or the leader and leaders of the so-called Civil Society Organizations, could so intemperately or rudely order the immediate abrogation of a national development-targeted transaction that has been openly, transparently and extensively debated in Parliament and has already been approved by the latter establishment, the characteristic and routine boycotting by the Parliamentary Minority – in this particular instance, the National Democratic Congress' Parliamentary Minority – notwithstanding.
I am also annoyed in no small measure by the rather cynical and scandalous suggestion by Dr. Steve Manteaw that, somehow, by their very decision to go through with the approval and ratification of the landmark and auspicious Agyapa Deal, our National Assembly Representatives are implying that "these elected [Members of Parliament] are the only relevant stakeholders in policymaking in the country" (See "Calls for Suspension of Agyapa Deal 'Too Late,' Unsustainable and Unrealistic – Baako" PeaceFM.com / Ghanaweb.com 8/30/20). No such assertion could be more absurd and downright silly. It is also patently clear, and pathetically so, as well, that Dr. Manteaw and his Civil Society Allies need some immediate critical and comprehensive education on how a constitutional democracy works, vis-à-vis parliamentary policymaking.
Indeed, even as Mr. Abdul-Malik Kweku Baako recently had occasion to instructively point out, if the Manteaw Group was really interested in making itself relevant in our nation's parliamentary policymaking process, Dr. Manteaw and his Civil Society Associates would have written to the Speaker of Ghana's Parliament to demand to be afforded some temporal space to make their grievances and apparent displeasure with the Agyapa Deal heard and promptly taken into consideration before the final vote was taken to approve or disapprove this perennial and far-reaching agreement. Being effectively able to do the preceding simply meant being "alert" to the arrival of these signal policy documents in Parliament, which is often invariably broadcast and published by the media. And then promptly consulting with their Parliamentary Representatives to be afforded legitimate access to the non-classified details of such agreements, for that is one of the major purposes of our Elected Representatives.
Our Civil Society Leaders cannot cavalierly presume to statutorily constitute themselves into a coordinate institutional parallel to the members of our National Assembly. This is where the administrative staff of the National Commission for Civic Education (NCCE) comes to the fore.
*Visit my blog at: KwameOkoampaAhoofeJr
BY Kwame Okoampa-Ahoofe, Jr., PhD
English Department, SUNY-Nassau
Garden City, New York
August 30, 2020
E-mail: [email protected]