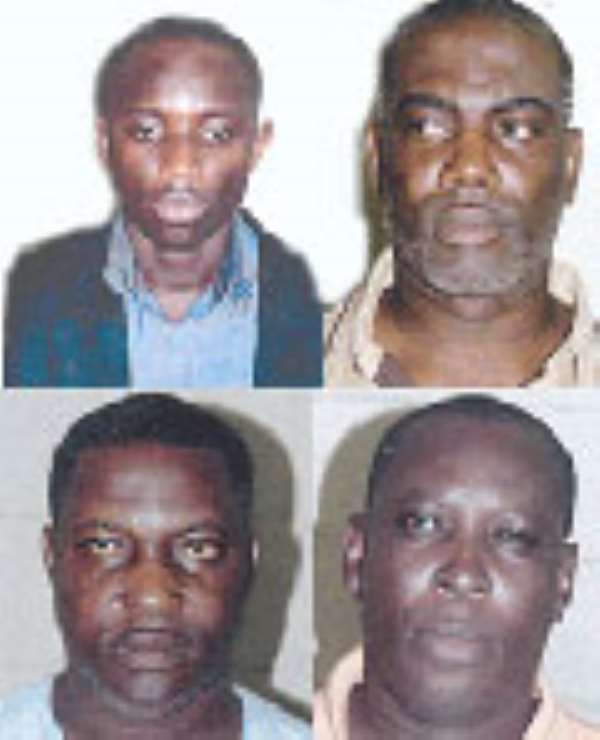 …if you have no evidence against accused persons'
The Accra Circuit Court Judge, Mr. Samuel Asiedu who is handling five suspected drug barons today gave the prosecution of the case two weeks from now to either prosecute the case or withdraw it if they have no evidence against the accused persons.
The Judge made this order after the prosecutor of the case appealed to the court to adjourn the case for some weeks, for prosecution which said they are still investigating the case, to come out with "good" news against the accused persons.
The prosecution's application for adjournment for investigations to continue angered the Defence lawyers. Particularly Nana Asante Bediatuo, Kwabena Amaning (Tagor's) lawyer, told the court that the 1992 Constitution does not allow what prosecution is doing by coming always to court to ask for more time for investigations, whilst accuse persons are behind bars.
The Defence lawyers prayed the court to grant the accused persons bail because the charges against them are not backed by the facts given by the Police. He said the accused persons were arrested simply because their names came up at Georgina Wood Committee. But the Judge declined to grant them bail and explained that if Defence lawyer disagree they know the right thing to do is to appeal at High Court.
The defence lawyer spent much time to argue that the accused person's liberty is being trampled upon since there is no evidence before the court that they deal in narcotic drugs. Case has been adjourned to 21st September, 2006.