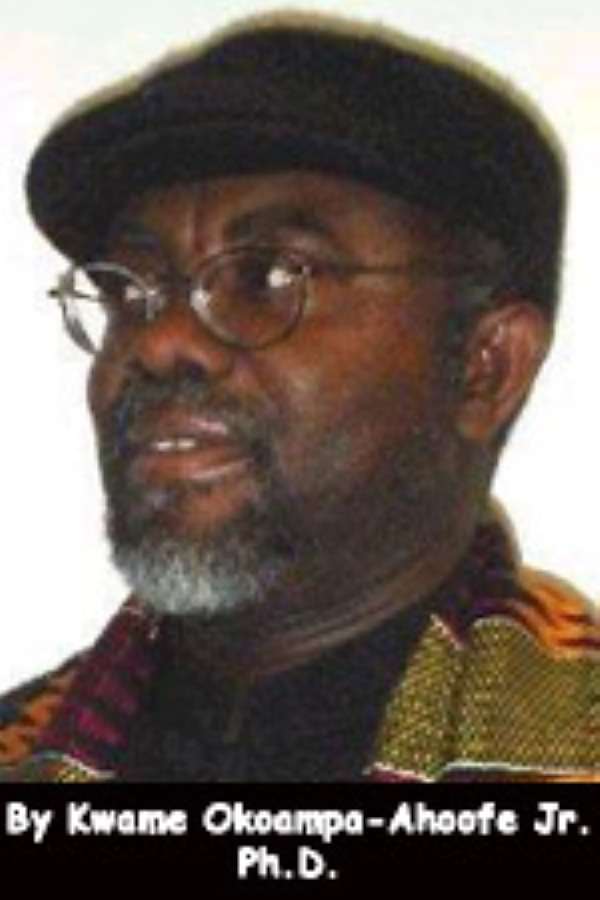 The call by Ghana's Minister of Education, Science and Sports for all "model" Senior Secondary Schools currently under construction to be "science-biased" must be taken with a lot of caution (Modernghana.com 8/25/06). This is because what the Minister omitted from his pronouncement is just as important as that which he emphasized. And by the latter, we imply the imperative need to reconfigure – or redesign – the country's Liberal Arts curriculum. For Papa Owusu-Ankomah appears to be erroneously implying that all is well and good with Ghana's Liberal Arts Curriculum at the secondary level. Nothing could be further from the truth.

And on the preceding score, perhaps, someone ought to point out to Mr. Owusu-Ankomah that more students in Ghana are widely known to fail their language examinations, particularly English, at the secondary school level than they do in Mathematics and the basic sciences.

In reality, perhaps, we need to equalize our discursive dilemma on the curriculum by observing that the development of the Liberal Arts Curriculum is as significant as its scientific curricular component. And on the preceding score, this writer hastens to observe the fact that he attended St. Peter's Secondary School (PERSCO), Okwawu-Nkwatia, during the mid-1970s and early 1980s, and thus pretty much appreciates exactly what he is talking about. This is because during the preceding period, St. Peter's handily and consistently ranked among the top-five secondary schools in the country. Perhaps the Minister may do himself and the rest of us a lot of good by checking this fact up with the registrars of the nation's three major universities, namely, Legon, Kumasi and Cape Coast. And if he cares to further acquaint himself with what yours truly is herein asserting, Mr. Owusu-Ankomah could also check with the Ghana Medical School vis-à-vis the numerical ranking of St. Peter's' graduates from 1976 to about 1990.

The question then becomes: Just how did St. Peter's achieve its sterling and enviable feat of unbested academic prowess at all curricular levels? The answer, indeed, lies somewhere between the singular foresight of Father Josef Glatzel and the missionary zeal, or determination, of both students and tutors of St. Peter's Secondary School.

Today, after twenty traumatic years of being, literally, hijacked by the despotic government of the Ghana Butchers' Congress – otherwise known as the National Democratic Congress (NDC) – St. Peter's may be wistfully envisaged as being a veritable ghost of its glorious past. In sum, while Father Glatzel, of blessed memory, as well as his predecessors, maintained the lofty objective of making St. Peter's the best science secondary school, nevertheless, the Arts and Business curricula were equally prioritized. The result was that St. Peter's ranked foremost among the leading Ghanaian secondary schools. Indeed, about the only schools that rivaled PERSCO, and, indeed, readily provoked anxiety among "PERSCOBAS" or "PERSCODIANS", as we affectionately called ourselves, were Wesley Girls' High School and the Presbyterian Secondary School (PRESEC) at Legon.

In sum, the sad reality is that by woefully underestimating the power of the Liberal Arts, particularly the Language and Communication Arts, Mr. Owusu-Ankomah does not seem to amply appreciate the rankly poor communication skills – both verbal and literary – among the overwhelming majority of the Ghanaian populace, including, not surprisingly, even our own Parliamentarians! One only needs to pick up a newspaper from the newsstand, or simply peruse the vapid linguistic fare that passes for mainstream Ghanaian journalism on the Internet in order to contradict or confirm the preceding observation. It is simply embarrassing. And indeed, in any particular newspaper, on any particular day, half of the news articles are bound to be fraught with such dictional howlers as to make one wonder about the caliber of the new breed of Ghanaian journalists. And here, the quizzical riddle becomes: Is it that the new breed of Ghanaian teacher – or educator – is remarkably dumber that that of yesteryear, or it is simply that the new breed of Ghanaian student – in this decadent era of "coke" – has been cognitively damaged beyond academic repair? Or is it a simple, but patently appalling, case of the blind leading the blind?

Perhaps somebody ought to apprise Papa Owusu-Ankomah of the obvious and basic fact that the teaching and practice of science (and by logical extension, Technology) does not occur in a vacuum. And that effective scientific pedagogy occurs through the primary and universal medium of language. Thus, for instance, we can train our students to manufacture computers, radio and television sets, but it takes people who have been well-trained – or educated – in the Liberal Arts to put such technology to effective use in order to ensure our economic, social and cultural development. Consequently, attempting to create science-biased academies is pretty much like presenting a ravenously hungry person with farina (or gari) devoid of the indispensable requisite of beans, that protein-laden dietary component that guarantees a healthy development of the mind, body and soul.

But that all is not well and good with our Liberal Arts education, is partly exemplified by our woeful lack of any major – or world-class – literary artists of the enviable caliber of Nigeria's Wole Soyinka, Ben Okri, Chinua Achebe, Buchi Emecheta and Cyprian Ekwensi, and an Ngugi, with the unarguable exception of Ayi Kwei Armah, of course. Which is one reason that keeps yours truly wondering whether it was even necessary at all for our immediate past government to have pumped millions of dollars into the erection of a national theater, a virtual white elephant, were one to ask yours truly.
Indeed, rather than unimaginatively and communistically attempt to desperately homogenize Ghanaian education, perhaps half of the "model" (whatever that means) senior secondary schools currently under construction ought to be designated as Arts- and Business-biased academies. The Americans, global leaders in scientific education, have been doing this for generations. Thus, for instance, St. Peter's Secondary School, as well as several other strategically located secondary schools throughout the Eastern Region, could be designated as Science Secondary Schools, while the rest are designated as Liberal Arts and Business Schools. Indeed, this is not a new phenomenon in Ghana – after all, haven't we always had Secondary-Technical Schools as well as ordinary secondary schools, and even Agricultural Secondary Schools? (And now, don't let any drunken idiot tell me it was President Nkrumah who introduced such innovation into our educational system; when my father was attending GSTS in the 1940s, the proverbial African Show Boy was not yet a chief policy pontiff. Dr. Danquah probably had far more to do with it, a la his Gold Coast Youth Conference, than anybody else; but even more particularly, Nana Sir Ofori-Atta I).
So why is Papa Owusu-Ankomah talking as if Ghana has just woken up to the imperative need for a strong scientific education? A time-warp crisis, maybe?
*Kwame Okoampa-Ahoofe, Jr., Ph.D., teaches English and Journalism at Nassau Community College of the State University of New York, Garden City. He is the author of "Sounds of Sirens: Essays in African Politics and Culture" (iUniverse.com,2004). His forthcoming publications are the poetic anthologies "Romantic Explorations" and "Happy Birthday, Abena Aninwaa: Letters to My Daughter"(iUniverse.com, 2006) and "Nana Kwame, Too, Can Read!" a children's reader (iUniverse.com, 2006).