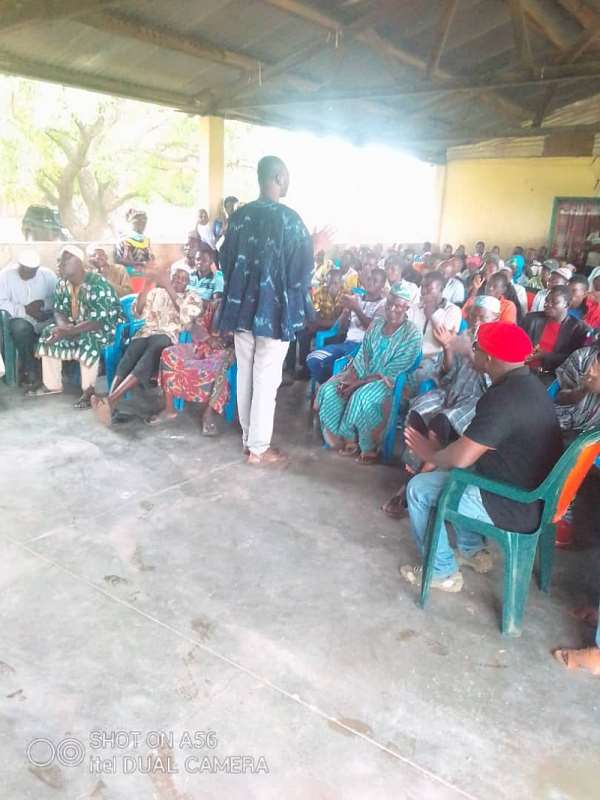 The National Democratic Congress in the Daffiama, Bussie, Issa has started hitting the grounds in preparation for the impending December parliamentary and presidential elections, which is barely three months away.
You would recall that on the 23rd August 2020, the National Democratic Congress Regional Campaign team, inaugurated the Daffiama, Bussie, Issa constituency campaign team at Bussie. The team was tasked to, among other things, form and inaugurate the zonal and branch campaign teams as soon as possible.
Yesterday, 28th August 2020, the constituency campaign team led by the Member of Parliament, Hon Sebastian Sandaare inaugurated zonal and branch campaign teams at Kojokperi and Issa respectively.
Addressing, the teams and party executives, Hon Sebastian Sandaare urged the teams and executives to involve everybody at the branch level. He also challenged the branch executives to work very hard to win their branches massively. He indicated that the "operation win your branch" is the benchmark that can be used to assess the effectiveness of the branch executives and the branch campaign team.
He reiterated that the hard work, sacrifices, and commitment of the members of the NDC in the Daffiama, Bussie, Issa would not be forgotten if the party wins both the parliamentary and presidential elections.
He also recounted the several strives he has been making in and outside parliament to bring development home but added that lobbying would be easier if John Dramani Mahama wins the election.
The teams, on their side, pledged to work very hard to ensure the victory of John Dramani Mahama and Hon Sebastian Sandaare. "We want to assure you that, here, in Kojokperi, we will deliver not less than ninety percent victory. Yes, we want to be counted, we want to further prove our commitment and love for the party" one of the party executives said.
The euphoria at the two separate short ceremonies depicted a clear sense of unity of purpose.
Other speakers at the ceremony included; Micheal Kombor, Hon Fedelis Zumakpee, Comrade Batholomew, Miss Janabu, James Wor, and the constituency chairman, Muoh Samba.
The inauguration of branch and zonal campaign teams is expected to continue in other parts of the constituency on Sunday, 30th August 2020.