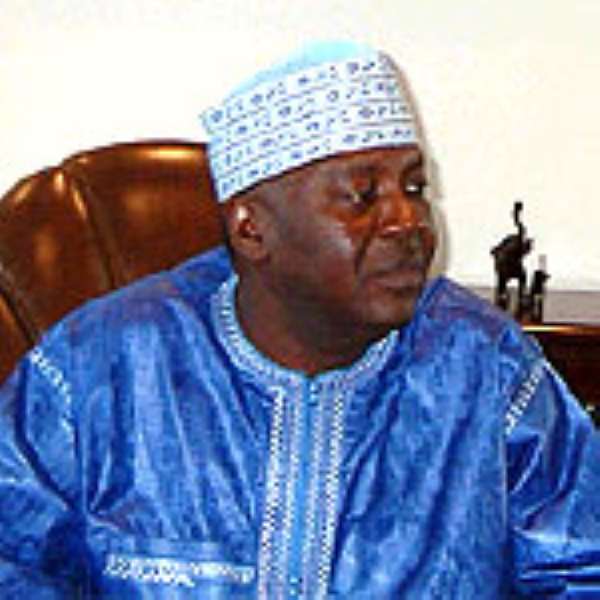 Alhaji Aliu Mahama, Vice President
Two free zone companies and other high profile corporate bodies in Dubai have expressed their commitment to do business in Ghana, following a two-day investment tour of the United Arab Emirates by Vice President Aliu Mahama.
They are Jebel Ali Free Zone Authority (JAFZA), which has the largest man-made harbour in the world, the Dubai Airport Free Zone Authority, Dubai Chamber of Commerce and Industry (DCCI), Dubai Mulit-Commodity Centre, Dubai Customs International and Dubai Flower Centre.
Vice President Alhaji Mahama visit to Dubai followed a week's official tour of Thailand, where he had high profile discussions with the Prime Minister, Dr Thaksin Shinawatra and the Deputy Prime Minister, Dr Surakiart Sathirathai and a number of entrepreneurs on the promotion of trade and commerce among the two developing countries.
Mr Abdul Rahman G. Al Mutaiwee, Director General of DCCI, said members were eager to use Ghana as a springboard to West Africa.
Ghana, he said was the safest place to do business in West Africa, adding: "We look forward to more interaction between Dubai and Ghanaian Business Communities." The Chamber expressed interest in investing in mining, agro-processing and the postal sectors.
Mr Rashid Humaid Al Mazroei, a Board Member of the Chamber, said the corporate body would send a trade mission to Ghana to explore business opportunities.
At the office of the Dubai Customs International, the Director, Mr Hamid Al Gaith said the public agency was eager to assist Ghana's Customs, Excise and Preventive Service (CEPS) with the state of the art technology, which include on-line clearance of goods, systemic tracking of activities and reduce the cumbersome and time consuming means of goods clearance at the country's entry points. These, he said, would minimise corruption and the margin of errors by CEPS officials.
Ms Salma Ali Saif Bin Hareem, Chief Executive Officer of JAFZA, said her outfit was ready to cooperate with Ghana to improve on her free zone system. She said JAFZA with more than 5,400 organisations was offering corporate income tax exemptions for 50 years and no financial and labour restrictions to investors at the Zone.
Ms Bin Hareem said the free zone facility was adding the biggest airport project with six runways with major arteries to its services.
Mr Mohammed Al Zarooni, Director General of Dubai Airport Free Zone Authority, said his Company would offer technical assistance to Ghana to streamline its free zone activities.
Mr Ian Strachan, Managing Director of Dubai Flower Centre, said the industry, which was the leading trans-shipment centre for perishable cargo was ready to share its expertise with Ghana.
He said the Centre was a one-stop-shop for local and international buyers, traders and exporters and had the capacity to handle more than 180,000 tonnes of cargo per annum.
The second largest tenant of the Centre is Kampac Oil, which is owned by a Ghanaian businessman, Mr Charles Ampofo.
Vice President Alhaji Mahama said in an address to the DCCI that Ghana's effort to diversify the economy, the availability of affordable labour, quality political leadership, a liberal investment environment and a strong and independent judiciary made the country a safe haven for investors.
He said Ghana would soon enjoy affordable energy from the huge West Africa Gas Pipeline Project to facilitate investments. "I am personally committed to ensuring the establishment of other structures in Dubai like a Trade Centre, Joint Commission on Cooperation, a Consulate and ultimately an Embassy."
He asked the Chamber to consider investing in real estates, shopping malls, establishment of an Islamic bank and also take over the operations of Akwatia Diamond Company listed for divestiture.
In his interaction with some entrepreneurs in Dubai, he said the time had come for the Arab world to look for business opportunities in Ghana and other countries in Africa with special interest.