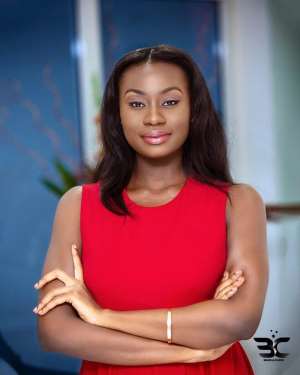 Natalie Fort, News Anchor of TV3's News 360
An award winning News Anchor of TV3's News 360, Natalie Fort has been rendered an official apology by Peace FM Online of the Despite Media Group, owners of UTV, Peace FM, Okay FM, Hello FM, and Neat FM.
This follows a suit filed by Natalie Fort in September 2019, represented by Lawyer, Kweku Y. Paintsil of Paintsil, Paintsil & Co.
Natalie Fort filed a suit for Defamation of Character against seven news portals for publishing a news item under the heading 'Natalie Fort pregnant for 4 married men'. In the publication, they alleged that Ms Fort was dating four married men including a high ranking politician, and was pregnant in circumstances in which she could not tell who impregnated her.
The news story (sourced from www.ghanacelebrities.com) further alleged that the family of Natalie Fort was seeking financial favours from one of the married men.
In the defamation suit filed at the Accra High Court against seven news portals, GHANA CELEBRITIES, YEN GHANA, GHANAWEB, GH PAGE, GHANA SLAYERS, NETBUZZ AFRICA and PEACE FM ONLINE, Natalie Fort asked the court to restrain the online portals from further publishing the defamatory words.
In the writ of summons dated September 4, 2019, Ms Fort sought damages, including special, aggravated and exemplary damages for libel, an instruction restraining the portals from further publishing the defamatory words, an order for the removal or deletion of the defamatory content, and any other relief as the Justice of the case may seem fit.
Peace FM Online on August 12th 2020, published an apology on its website (https://www.peacefmonline.com/pages/local/peacefm/202008/423231.php) and Graphic News (https://www.graphic.com.gh/entertainment/showbiz-news/news-websites-apologise-to-natalie-fort-over-pregnancy-story.html).
"The Management of Peacefmonline do hereby unconditionally retract the republication made against Ms Natalie Fort for failing to verify the authenticity of the said claims. As a result, the story has since been pulled down. We further solemnly and unreservedly apologise for any harm, damage or loss suffered in consequence thereof to the person of Ms Natalie Fort, including any disaffection made towards her".
The remaining news portals were also duly served.
Natalie Fort has since resumed work after her one year leave.